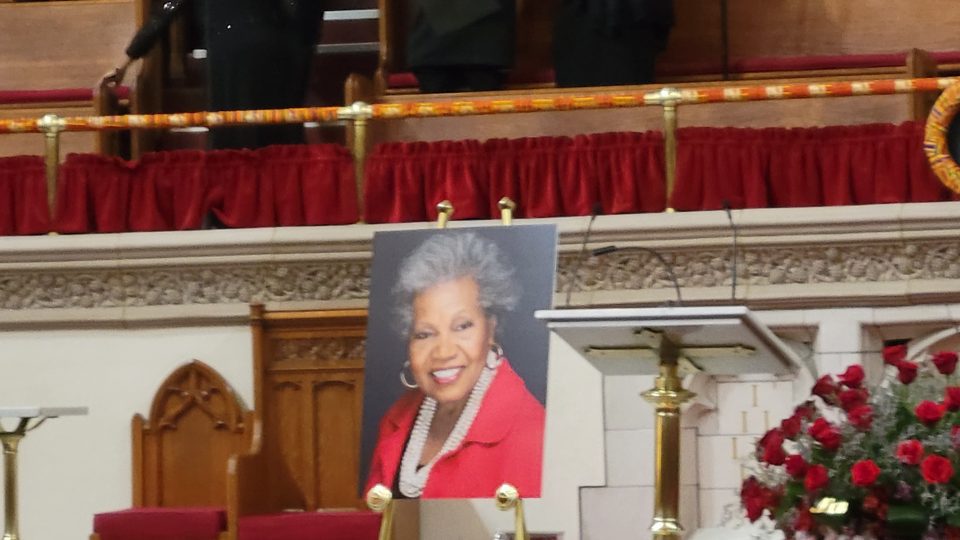 Abyssinian Baptist Church celebrated the loss of another legend earlier this month. (Reverend Dr. Calvin Butts, III, also passed last year.) The life of Patricia Pates Eaton was celebrated in a memorial service that featured performances, reflections, and tears. She was compared to Michelle Obama at the service.
Eaton graduated from the Chicago Musical College at Roosevelt University and received her Master's degree from Columbia University's Teachers College. Here are excerpts from remembrances of Eaton.
"Her passing is a loss not only for your family, but for the friends whose lives she touched and the community in which she lived and to which they were dedicated. She was a blessing to all who knew the privilege of her personality and presence, and to the city of New York which we share. An indelible part of the community at Abyssinian, her love for those around her and joy in lifting them up was evident.
"I was honored to have gotten to know Ms. Pates from my days as a high school student in the All-City High School Chorus. It didn't take long for us to know that Ms. Pates was not with the game and insisted on attention to the tasks at hand. It also didn't take long to know how much she cared about music and her students. Both of these qualities enriched our lives. Ms. Pates always operated with awesome regality, and she dedicated herself to and thoroughly enjoyed sharing her knowledge and love of music.
"To her daughter Patrice, with whom I spent memorable years with at Harlem School of the Arts, know that your mom's impact will long continue to be felt by those who knew her best, and that her spirit and legacy will not be forgotten, but reverberate throughout the community and our city, including me. I also know that her spirit, essence and life lessons live through you." New York City Public Advocate Jumaane Williams.
"Eaton was a primary component of fine music in the artistic community as an educator, organist, singer, director, and minister of music in some of the best-known churches in New York and beyond. She's responsible for exposing many young musicians to many great oratorios, sacred works, and music by African American composers. Mrs. Pates Eaton's presence on the music scene will be sorely missed." Max Bertrand.
"My mother's first love was classical music, but she could tell the difference between the sounds in gospel music and in her book, Chicago was always first and then Detroit … period. She knew the difference between trap, west coast and east coast rap. She loved the political rappers of the '80s. She loved Beyonce, Whitney, Rihanna, Meghan the Stallion, Cardi B, jazz … especially jazz big bands, Motown and the Blues, and no matter who was popular at the time, she stood on her hill and preached the importance of the music of the enslaved, the Negro Spiritual." Patrice Pates Eaton.