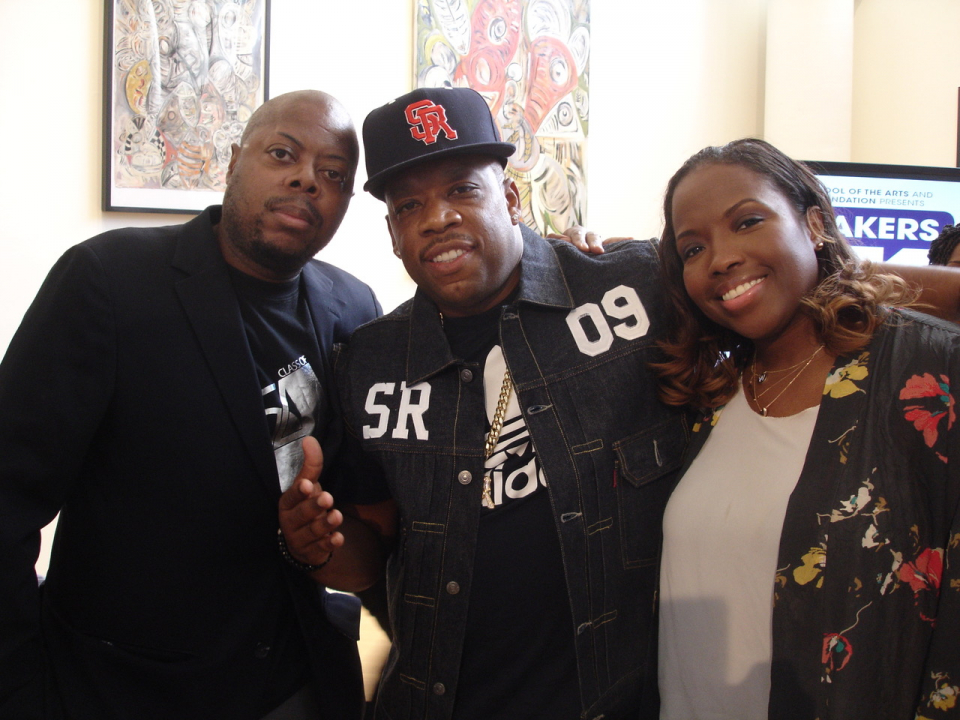 New Edition and Bell Biv DeVoe founding member Michael Bivins and R&B Foundation chairman Damon Williams hosted an event called "ArtMakers – A Conversation with Mike Bivins and Damon Williams" at Harlem School of the Arts earlier this month. The event was in celebration of Black Music Month and the HSA Spring Festival.
HSA students, parents, and faculty were joined by guests to listen and learn from Bivins; Williams; Whitney-Gayle Benta; Strategic Partnership Development; Music for Facebook and HSA alum; music industry veteran Jackie Poindexter; and DJ Johnny Famous, also known as hip-hop dancer Scoob Lover.
After the panel of music industry veterans answered questions from Williams, it was time for the audience at HSA to get a chance to pose questions..  Perhaps the most valuable piece of information Bivins gave was directed to the many parents of talented students in attendance. "Push your kid and allow them to live their dream."
Rolling out had the opportunity to speak exclusively with the Boston born and bred Bivins prior to the event. Bivins, who, along with his fellow New Edition members were portrayed in the BET miniseries "The New Edition Story" said they formed the group for a simple reason: "We just wanted to look good enough to get girls!"
Bivins described the film as a story of perseverance and redemption. "It makes it impossible for the music industry to overlook us and our contributions." New Edition was honored for those contributions on the BET Awards Sunday with a Lifetime Achievement Award.
We also discussed the BBD hit "Poison" which still gets airplay at clubs and on the radio today. Did the group know they had a smash hit when they recorded it? "Not at all. It's even more popular now than it was then," Bivins said.
Bivins described BBD as a unique blessing in his life. "BBD was a life jacket. One that we three needed. The best gift to ever get in life is a life jacket," he said.
"I've been going to Harlem all my life. Harlem reminds me of Roxbury, where I'm from," Bivins said. The star also didn't want to take credit for giving back to the community but said it was a responsibility. "I think information is something that is supposed to be passed around," he said. Bivins seemed especially proud of the Boston basketball court named after him, the Michael L. Bivins Court at Ramsay Park in Roxbury.
Bivins, who is currently the CEO of his own label, Sporty Rich Enterprises, also has been a successful music industry executive, discovering and signing Boyz II Men.
Bivins still tours with both New Edition and BBD. Check out the new BBD album Three Stripes and keep up with him on Instagram @617mikebiv. Look out for a fall tour from New Edition. As he said on Instagram about the HSA event, "reach back and guide the youth."