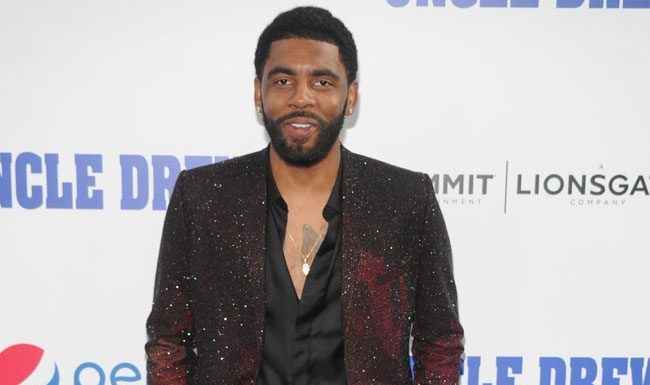 The nasty narrative surrounding, if not engulfing, NBA superstar Kyrie Irving rarely includes the fact that he has given millions of dollars of his own money to a multiplicity of causes and people over the years.
Well, serial philanthropist Irving has struck again.
The Dallas Morning News received confirmation from the Mavericks organization that the spectacular but controversial point guard has given $45K to help build a classroom in a Nigerian slum and a school in Ghana.
The man who is spearheading the fundraiser, University of Miami graduate Cameron Mofid, was pleasantly shocked to learn that his modest GoFundMe goal of a $1K startup was raised exponentially after Irving gifted his campaign.
"I actually thought it was a mistake or a scam, like spam mail," Mofid told The Dallas Morning News on Monday. Not long thereafter, Mofid learned that the donation was legit. 
"That's when I went into a state of shock," Mofid said.
"It's really amazing," Mofid added. "His donation single-handedly will build the entire orphanage in Ghana. It will buy a water tank for the kids in Nigeria. They live in a village with little access to clean drinking water. And so we'll be able to buy a water tank; we'll be able to buy shoes for all the kids. And books.
"And we will build a new basketball court in [Irving's] honor."
The disadvantaged Nigerians are thanking Irving profusely, with the kids and teachers crafting thank-you videos and photos for Irving. 
During the NBA All-Star Weekend in Salt Lake City, Irving explained his philosophy of philanthropy.
"The philanthropic things I'm most excited about is continuing my GoFundMe of just dropping onto people's pages and just helping out humanity as best I can. The purpose here on Earth is bigger than me, so I have to selflessly pursue things that may not interest everyone else," Irving told the newspaper. 
"I just love to be there because people were there for me. I grew up with a large family and village that helped me every step of the way, all walks of life, and whenever I had questions, they would be there to answer, and they taught me how to really selflessly serve a community."