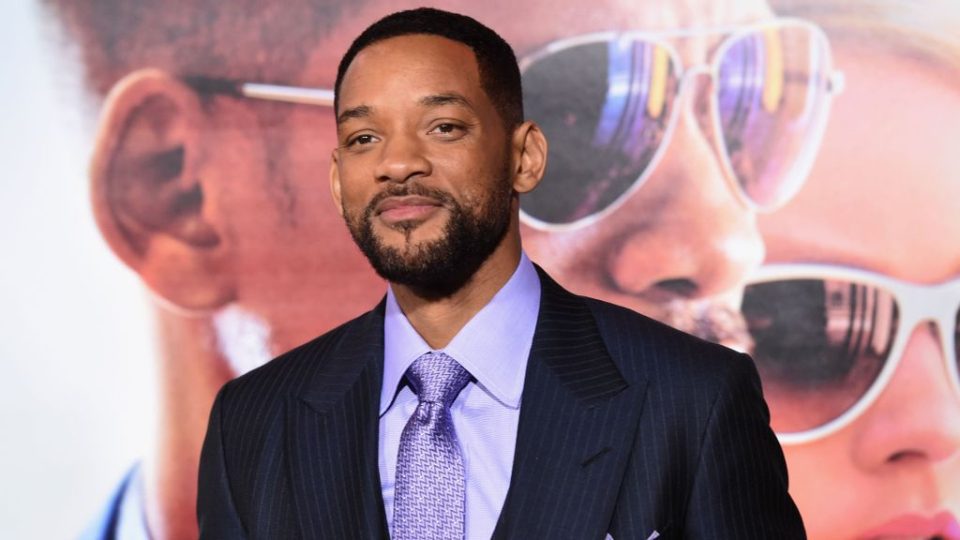 A journalist for a notable Black publication suggested comedian Chris Rock deserved to have the side of his head caved in by Will Smith at the 2022 Oscars for his ceaseless denigration and attacks on Black women.
The Roots writer Candace McDuffie told CNN's Don Lemon that Rock suffered the retribution as a form of accountability for a pattern of belittling and further marginalizing this undervalued demographic years before he blistered Jada Pinkett Smith. 
Many urbanites on Twitter concurred with Duffie's sentiments that this was the proverbial "chickens coming home to roost" for the famously caustic comedian.
Rock, 58, made fun of Pinkett Smith's bald head at the Academy Awards by suggesting she was ready to star in the sequel to G.I. Jane in which Demi Moore shaved her head for the role. When Pinkett Smith, 51, rolled her eyes at the scathing joke, her husband dutifully marched onstage and lowered the hammer on Rock with an open hand.
Urbanites looked askance when Rock later claimed he was unaware that Pinkett Smith suffered from the auto-immune disease alopecia that causes hair loss – although she had addressed it multiple times on Instagram and via her Facebook Watch show "Red Table Talk."
The comedian was subjected to abject international humiliation after suffering the wrath of Smith's hand. Meanwhile, the Oscar-winning Smith, once a Tinseltown darling thanks to a string of blockbuster films including; Men in Black, Independence Day, I Am Legend, Pursuit of Happyness, Bad Boys, Hitch and I, Robot, was subsequently cast into industry exile for the next decade for his transgression.
Lemon cautioned the writer McDuffie that her words may be interpreted by the mainstream (read: White people) as condoning violence as a means to reconcile grievances. McDuffie countered that she was referring to "accountability" since Rock has made "Black women the butt of his jokes for years, and he's finally being held accountable." The writer continued on, saying she hopes this sets a "precedence going forward that people will be more careful about how they treat and discuss Black women."
McDuffie has many Black folks who agree with her stance, while others resolutely support Rock and his scorched-earth Netflix special, "Selective Outrage," where he flames Will and Jada Pinkett Smith with a vengeance.
Some Twitter users point out Rock's proclivity to use Black pathology and dysfunction as fodder for his jokes in front of White people, while others applauded Rock for verbally smacking back at the Smiths.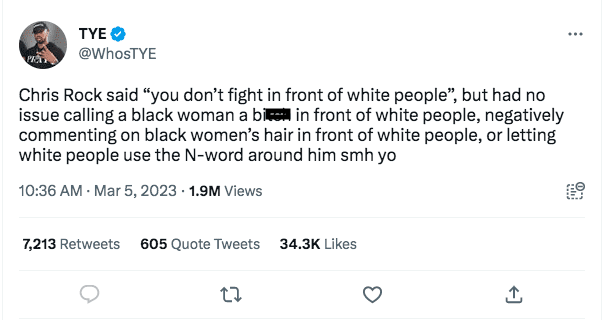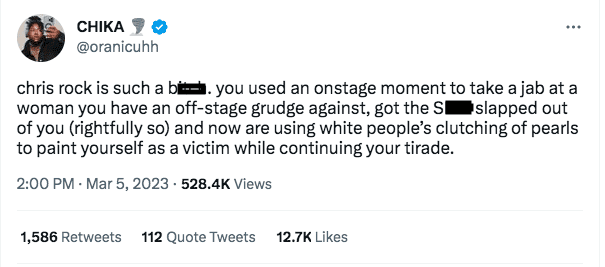 Since Chris Rock is trending, watch him let Louis C.K. and Ricky Gervais make fun of black people and use the n-word.

Jerry Seinfeld was the only one who said to stop.
pic.twitter.com/RG0D93D43C

— 🕯️🔪🥀 ʇoN 𝕵𝖔𝖘𝖎𝖊 𝕲𝖗𝖔𝖘𝖘𝖞🪬🔮𝐵𝐿𝑀•ACAB (@NotJosieGrossy) March 3, 2023
'Maybe Chris Rock's mother should have raised him to not let white peoples say the N-word in front of him then too

— TV Fanatic👑⚜️ (@TvKhaleesi) March 5, 2023
And there it is. Chris Rock revealing exactly what people who were upset with Will were really mad at…it was in front of white people https://t.co/Vrj7I2RMJA

— Lady Whistledown in the Hood (@colorfullstory) March 5, 2023
Chris Rock just slapped Will Smith the right way on stage. pic.twitter.com/eHAWXQlIso

— Dom Lucre | Breaker of Narratives (@dom_lucre) March 5, 2023
"I tell ya what: Chris Rock has a new fan in me. He gets it. Best special he's ever done." pic.twitter.com/y3vmMAE1Zl

— Dr. Heckyll AND Mr. Jive 😷 💉 (@ChocnessMonsta) March 5, 2023