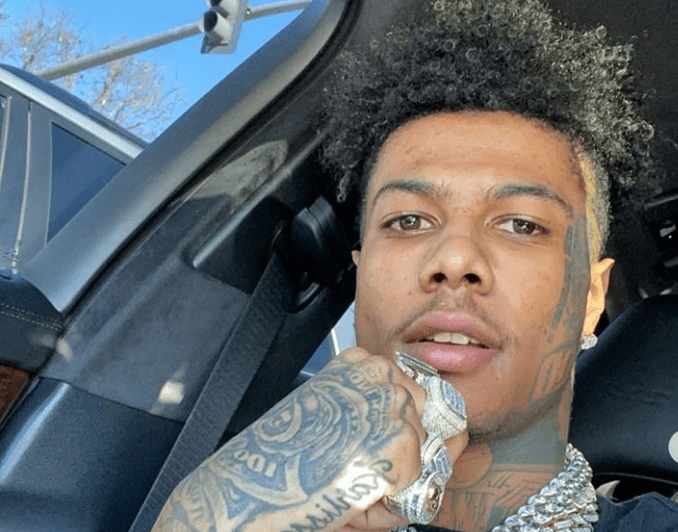 In one of the most outlandish and grotesque messages a mother could ever post about her own son, rapper Blueface's mother told her Instagram followers that her new boyfriend's penis is bigger than her son's genitalia.
Fans listened in utter disbelief — and horror — as Karlissa Saffold go off on a nonsensical rant that she is not sleeping with her son, but somehow can compare her new man's and Blueface's private packages.
Saffold started off with a clap back against the fans of her son — and who have watched the reality show "Blueface and Chrisean Rock: Crazy in Love" — who believe that Saffold is so involved and intertwined in her son's life that she wants to sleep with him.
"I don't mind if you say weird stuff. Just don't be saying stuff about 'I wanna sleep with him,' " she said while driving. "That's going too far, OK?" 
Multiple blogs including NoJumper.com were able to capture the IG story footage before it expired and reposted it. In the video, Saffold teases listeners that she will post a photo of her naked man to prove her point.
"I got my own d— over here and it's bigger than my son's d—, OK?" she began. "So we gonna get that all cleared up. If you need me to post that D so that y'all know what I'm working with over here, you know I ain't got a problem with it. I will go home and get it up for you right now and post you a nice little pic."
Fans were aghast at Safford's statement, saying "what is wrong with you?" and "WTF kind of mother are you?" And that's just for starters.
"Blueface was doomed from birth," one amazed person opined.

"What type of s—," an incredulous person asked rhetorically.
"That's literally so weird

😭"

"Dude wtf what type of mom is this

😂😂."

"That's why he's the way he is. Smh."
"Super weird

🤣🤣🤣

I feel bad for him at this point."

"D— what is wrong with her!!!
Like whattttt!!!!!
Saffold's statements gave credence to one observer's opinion of Blueface and his mother: "I knew they was f—— 😂😂😂."
This unfortunate episode regretfully follows another "Twilight Zone" moment on the Blueface and Chrisean Rock reality show where Blueface actually told his mother that "you're just not my type of woman," as his dejected mother listens.
Instead of clearing up that Saffold has never slept with her son, despite her incessant interference in his personal life, she actually exacerbated the situation and have more people questioning her state of mind, if not her sanity.