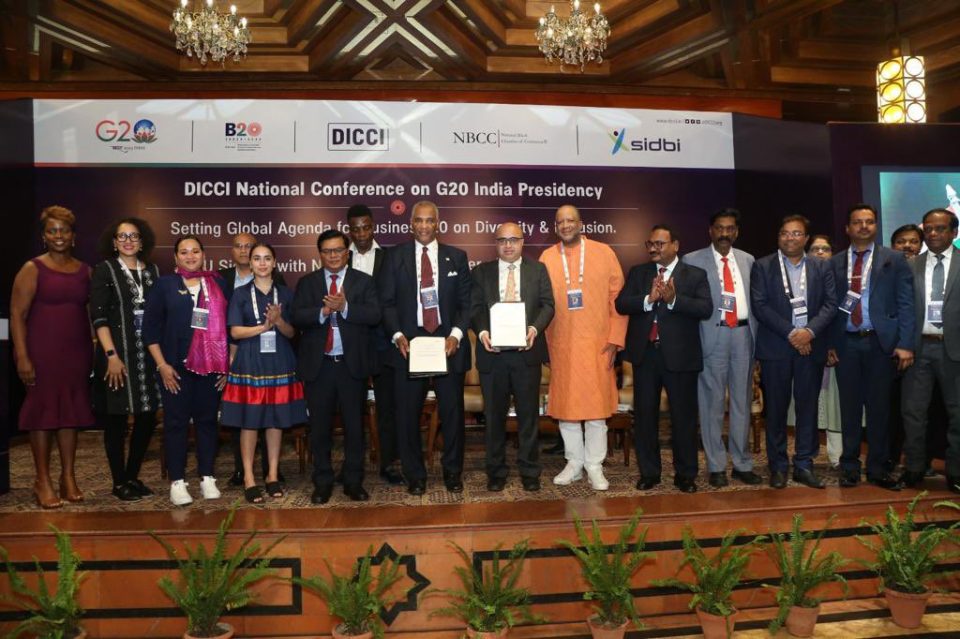 The National Black Chamber of Commerce (NBCC) and the Dalit Indian Chamber of Commerce and Industries (DICCI) signed a historic and groundbreaking memorandum of understanding (MOU) on March 30, 2023. The MOU was signed in New Delhi, India to advance commerce, build connections, and share business best practices between two similarly marginalized groups across the globe.
Delegates from the U.S. were hosted by the DICCI group and had several meetings throughout their time in India to discuss shared goals, objectives, and actions as India is poised to experience explosive growth and ascension as a world economic power. 
The background and inspiration for this relationship comes out of long-standing cultural parallels between the work of Dr. Martin Luther King, Jr. during the civil rights movement and the thought leadership of similar leaders in India such as Dr. Babasaheb Ambedkar. The movement of Black people for civil rights and social justice has provided a blueprint for organizations such as DICCI in India. As India continues to evolve on a global stage, the next logical step is how two marginalized groups can seek to work together to embody the DICCI mission: "Be Job Givers, Not Job Seekers."
"As the NBCC enters its next chapter, we are focused on expanding our portfolio of international partners who emphasize economic development for Black businesses and solutions that amplify the Chamber's reach beyond domestic means," says Charles H. DeBow, III, CEO of the NBCC. "We consider this trade mission to India to be a first step which accomplishes that ethos efficiently and impactfully while carrying on the NBCC's decades-long traditions with a modern perspective."
The DICCI group is focused on diversity, equity, and inclusion and is open to learning key best practices from the NBCC and its delegates. The NBCC delegate group consisted of experts in the fields of international trade and duties, diversity, equity, inclusion and belonging, multicultural marketing communications, academia, entrepreneurship, media, and global and domestic business operations.
Munson Steed, CEO and founder of rolling out and Steed Media Group, joined the trade mission to share the perspective of a Black entrepreneur and owner of one of the largest independent Black-owned media companies, providing input on the discussion around how to continue the actions supported within the MOU. Along with Steed, DePaul University professor, fellow, and communications consultant Christina Steed, M.A., was on hand to share the diversity, equity, inclusion, and belonging landscape in the U.S. at a corporate and government level. She also shared the importance of branding and storytelling about creating connections between Black business owners, Indian business owners, and entrepreneurs.
"This historic exploratory trade mission allowed us to make strong connections with the Electronics Software Export Council, US India Strategic Partnership Forum, and U.S. Senior Commercial Office," said Frederick Anderson, corporate and international director, National Black Chamber of Commerce. "The highlight was our momentous MOU signing between NBCC and DICCI, an unprecedented event. It opens up a tremendous economic opportunity between Black and Dalit businesses, in the USA and India. We intend to collaborate and establish more formalized trade trips to both countries, in the near future."
Similar to the push for Black entrepreneurship in the U.S., the DICCU group is focused on motivating Dalit youth to become entrepreneurs and "fight caste with capital."
The DICCI leadership who graciously hosted the U.S. delegate group included:
Dr. Milind Kamble, Founder and Chairman

Mr. Ravi Kumar Narra, National President

Mr. Sanjiv Dangi, Vice President

Dr. Raja Nayak, Vice President
The NBCC delegate team consisted of the following representatives:
Frederick Anderson, Corporate and International Director, National Black Chamber of Commerce

Roby Mercharles, CEO, River View Partners

Marwa Odeh, Strategic Growth Partner, River View Partners

Shaquana "Shaq" Teasley, Founder and CEO, Agate Solutions, LLC

Munson Steed, CEO, Founder, and Publisher, Rolling Out

Christina Steed, M.A., Communications and DEIB Consultant, Agents & Strategies, LLC; Professor and Fellow, DePaul University

Jean Adero, Reimagine Africa
Photos provided