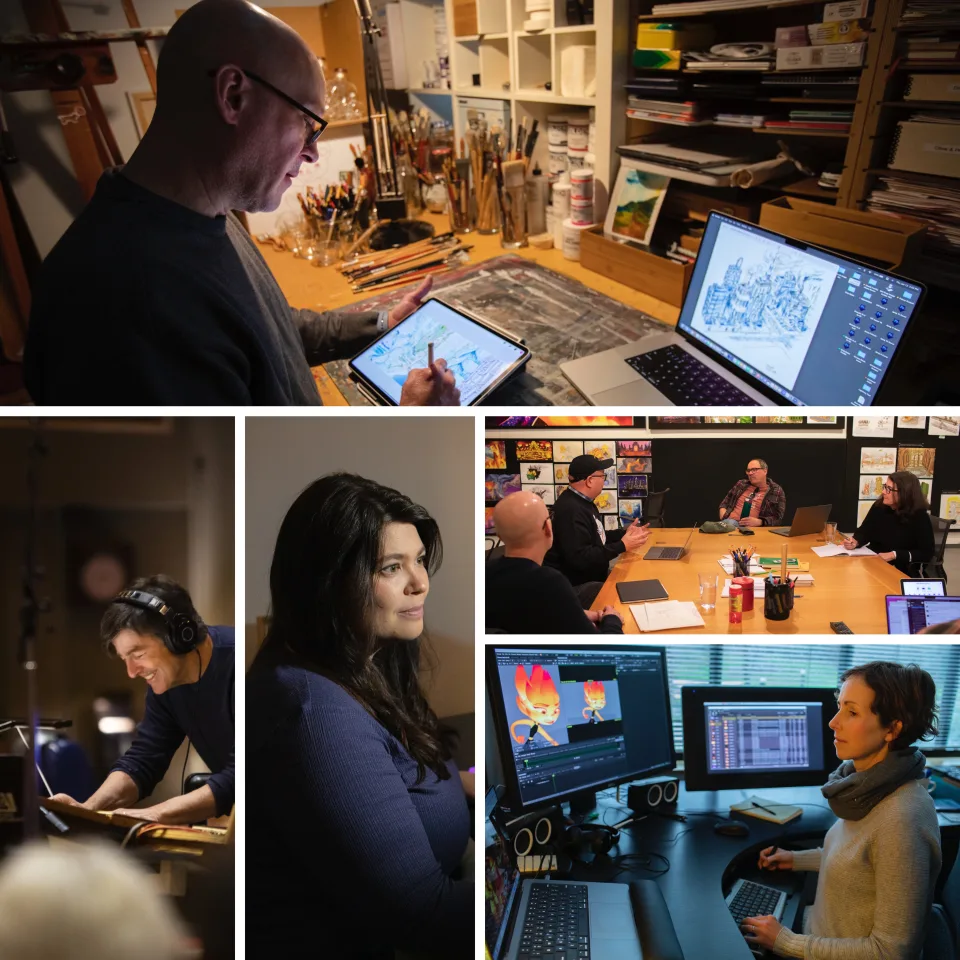 Meet the dream team of Pixars Elemental. Don Shank, Sanjay Bakshi, Gwen Enderoglu, and Allison Rutland prepare you for an unbelievable journey into an animated world unlike any other.
What compelled you to say, "Okay, I'm going to begin here with the project of Elemental?"
Don Shank (Production Designer)
I almost had two beginnings in a way for this movie. We needed to figure out what this Elemental world looks like. So I would do early drawings of buildings and places to really immediately try to connect with what kind of world it would be. I've always loved doing this transformational sort of idea. I grew up watching "The Flintstones" visually. It looked like a suburban neighborhood, but like a caveman built it. So having that sort of wit and humor transformed into something that's always appealed to me had been fun to me. … I immediately fall in love with this project. 
What was the first visual impact you saw first when it came to Elemental?
Sanjay Bakshi (Visual Effects Supervisor) 
The kids side. It was like that fun of seeing a water character do watery, funny things and fire, you know. That opportunity to really exploit what would a watery character walk like, that's the kid's side of me, too, to enjoy that animation of it – that caricatured movement, how our animators can really push and characterize the movement. What appealed to me from the conception of this thing is how fun that would be. The idea is that you can shut off the sound and still enjoy visually what's on screen.
What creative lens helped you see Elemental? 
Gwen Enderoglu (Directing Animator)
We're in the animation field because we are still kind of kids at heart. I think we're always looking to find ways to bring fun and entertainment to that generation. I think for me, [it was] becoming a mother, really having my own kids, who I hope will watch and love and enjoy these films. It just makes you reevaluate and evaluate your own eye and the perspective you bring to the film. 
I did see a difference between the world and then the actual characters. How fun or challenging was that for you? 
Allison Rutland (Directing Animator) 
It was tricky in this film because we didn't know exactly what the look would be. I think, as an animator where we're kind of really driven to produce a certain thing. It was hard for us to do that when we didn't know what that final thing would be. So it was like this leap of faith that we had to make. We all came together to work through this. To create this Elemental magic together.
Disney Pixar Elemental is in theatres on June 16.