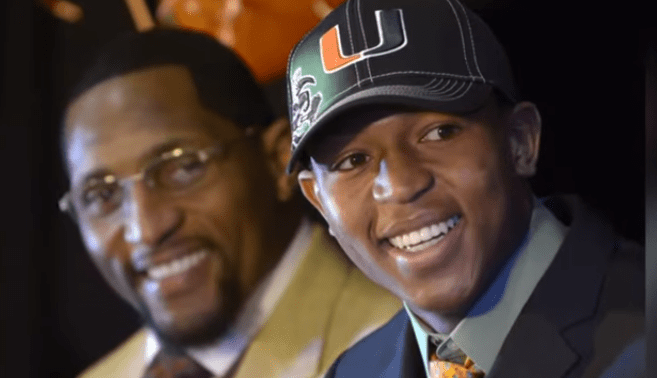 Ray Lewis III, the son of NFL Hall of Fame linebacker Ray Lewis, has died. He was 28.
At press time, no explanation has been given about the cause.  Lewis III's death has been confirmed by two of his five surviving siblings. He leaves behind brothers Rashaan, Rayshad and Ralin as well as sisters Diaymon and Kaitlin.
Diaymon Lewis penned on her Instagram Story, "Brownie, I love [you] with all of my heart."
She also posted another photo with them together with a short and poignant message:
One of Lewis III's brothers indicated that there may have been some turbulence that precipitated his death, writing, "A true angel I pray your at peace now because IK how much you was rlly hurtin."
People magazine reported that others close to the Lewis family also posted tributes, including rapper Yung Shad, who wrote: "RIP my big brother. Ain't really know words for this s—-, just hope [you're] at peace now. I know you [were] hurting."
Lewis III eventually transferred to Coastal Carolina and then once again to Virginia Union in 2017. After finishing his collegiate career, Lewis III played indoor football for the Wyoming Mustangs in 2021.
After football, Lewis III also tried his hand at rapping as he released singles and videos on his social media platforms.