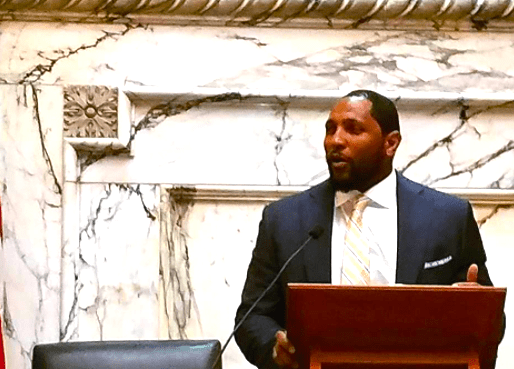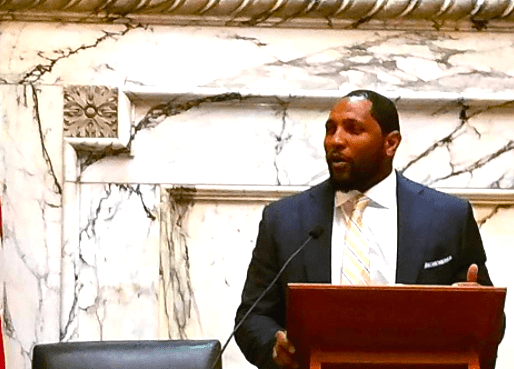 Ray Lewis wants the nation to believe a tweet is the reason Colin Kaepernick was not signed by the Baltimore Ravens. During an episode of Showtimes "Inside the NFL," Lewis spoke about the Ravens' initial interest in Kaepernick.
Ravens' starting quarterback, Joe Flaco, was experiencing back issues and Kaepernick appeared to be the perfect quarterback to fill the role as a starter. Ravens' owner, Steve Biscotti, spoke to the media about the team's interest in Kaepernick and told them, "Pray for us." The comment was viewed by many as an overreaction. Why would the Ravens need divine help to come up with a decision to sign a quarterback?
Lewis reportedly provided advice to the team's ownership on the matter. Three days after it was reported that Lewis was skeptical about Kaepernick's potential, Kaepernick's girlfriend, Nessa Diab, posted a tweet. The tweet featured a scene from Django Unchained where Samuel Jackson's character hugs Leonardo DiCaprio's character. In the film, Jackson portrays a slave who hates Blacks and DiCaprio is a slave owner. Diab's post featured Lewis hugging Biscotti in the same manner.
Lewis claims the tweet was the reason Kaepernick was not signed by the Ravens. "His girl [Diab] goes out and put out this racist gesture and doesn't know we are in the back office about to try to get this guy signed," Lewis said. "Steve Bisciotti has said it himself: 'How can you crucify Ray Lewis when Ray Lewis is the one calling for Colin Kaepernick?'"
Lewis also claimed that things would have been different had the tweet not been posted.
Lewis said, "I am sitting with all three of them and we are all having a conversation about bringing Colin Kaepernick in."
Lewis' claims are ridiculous and dangerous. It's ridiculous for him to believe that a tweet has prevented Kaepernick from being signed by the Ravens or any other team. It's dangerous because it attempts to ignore the fact that Kaepernick is being blackballed for taking a stand on police violence against Blacks.
Lewis' response goes against everything that allows him to have a prosperous career. The Ravens decided to forgive Lewis' past transgressions, such as being involved in a murder case. But somehow, Lewis wants the public to believe that the Ravens can't forgive a tweet.