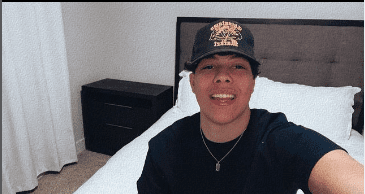 The brother of Super Bowl-winning quarterback Patrick Mahomes is under investigation for allegedly assaulting two people at a restaurant in suburban Kansas City, Kansas.
Jackson Mahomes, 22, is accused of allegedly shoving one male waiter and forcibly kissing the owner of the Aspens Restaurant in Overland Park, Kansas, about 10 miles from Kansas City, Missouri, where the NFL Chiefs play.
Authorities in Overland have yet to divulge specifics of the incident but delivered a statement to the media.
"The police department is aware of an incident that occurred on Feb. 25, 2023, at a business near 151st and Metcalf," the department said in a statement obtained by the Kansas City Star. "The department is still investigating. Releasing any additional information would be inappropriate at this time. Anyone with information should contact the TIPS Hotline at 816-474-TIPS."
Mahomes' attorney vehemently denies that Jackson Mahomes assaulted anyone.
"Jackson has done nothing wrong," Brandan Davies told the newspaper. "Our investigation has revealed substantial evidence refuting the claims of Jackson's accuser including the statements of several witnesses. We have reached out to law enforcement to provide the fruit of our investigation so that they may have a complete picture of the matter."
Unfortunately for Jackson Mahomes, "TMZ" is in possession of a damning photo showing the younger brother – who, at 6-foot-6 is taller than his famous brother Patrick – grabbing the owner of the bar by the throat which contradicts Mahomes' claim of innocence.
https://www.instagram.com/p/CpYQx0xNWke/?igshid=OWEyOTRmYTI%3D
The woman in the photo is the owner of the Aspens Restaurant, Aspen Vaughn. She accused Mahomes of unwanted sexual advances and being inebriated. She supplied the photo to the media. 
"He forcibly kissed me out of nowhere," Vaughn told the newspaper, "and I'm telling him, pushing him off saying 'what are you doing?' and then he proceeded to do it two more times where the last time I was pushing him off and I can see on the cameras that somebody was outside the office door and I was yelling for them to come help because he's big and massive."
Vaughn added that Mahomes is a frequent visitor to the restaurant due to his friendship with her stepdaughter. However, "I would say one out of four times he comes in, it's not a good experience," she said.
Jackson Mahomes has come under fire in the past for allegedly bad behavior while attending his brother Patrick Mahomes' football games.