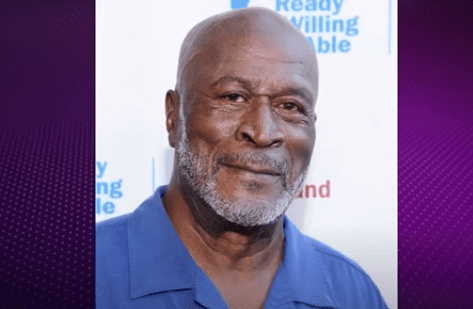 John Amos, whose booming baritone and steely glare on the classic sitcom "Good Times" made him Black America's dad, is now accusing his daughter of elder abuse.
Amos adamantly contradicts his daughter Shannon Amos who claimed a week ago that her venerated dad was "the victim of elder abuse, neglect, and financial exploitation." She went on to say in a GoFundMe post that the victimization of her father was "believed to be perpetrated by a trusted caregiver."
But in shocking news, Amos, 83, is claiming his daughter is the only "primary suspect" in this interfamilial debacle. 
The GoFundMe page created by John Amos' daughter Shannon Amos to raise $500,000 for "legal, medical, future housing, and care expenses" has since been removed without explanation. 
"I'm not in the hospital as a result of anything that happened recently, other than the fact that about a month ago, I was hospitalized because I was suffering from water retention and a couple of other issues — all of which have been corrected, or at least addressed," Amos said. "I'm very confident in the doctors that I have here and the medical staff that my son has assembled all around me. So I feel very good about that."
He went on to explain that his primary concern is his daughter, who called attention to his health in May. "My main issues are I feel like, prior to entering the hospital, I had some ongoing issues with my daughter, who I feel has taken advantage of me. She would be the primary suspect, if you would. She is the one that I would attribute my elderly abuse to."
https://www.instagram.com/p/CthXa6puQeE/
Furthermore, Amos' publicist Belinda Foster vehemently contradicted Shannon Amos' claims that her father's life hung in the balance lest she raised a half-million dollars for medical expenses.
Moreover, John Amos, who is also famous for starring in the classic Eddie Murphy film Coming to America, was unaware that his daughter had even created a GoFundMe account on his behalf.
"He had no idea there was a GoFundMe put together by his daughter, Shannon," Foster told "Entertainmet Weekly." "He had no knowledge of it. He doesn't need a GoFundMe. He's doing well and he doesn't understand why she put this thing together."