VALLEY MILLS, Texas — A 6-year-old boy died in Texas on 16th, June following a lengthy battle with injuries sustained from a lightning strike in May that left his father dead and elder brother injured.
Grayson Boggs, of Valley Mills, Texas, was struck by lightning when he, his brother, and his late father were walking home from the bus stop in May. Grayson sustained permanent brain damage and was in a coma following the strike.  "He stayed in the intensive care unit for several weeks. He was taken off a ventilator this week," According to KWTX.
"Grayson went to be our Lord and his father at 5:05 a.m [GMT-5]," an update from a GoFundMe page, which was initially made after Grayson's father passed away last month from the lightning strike, stated. "Please pray for our family at this time. Fly high, sweet boy," said a family member.
Grayson's father, 34-year-old Matthew Boggs, died on Monday, May 15, 2023, when a lightning strike hit him and traveled through his hand to his son. Emergency responders pronounced Matthew dead at the scene.
Grayson's brother, 11-year-old Elijah Boggs, was just feet away from the situation when it happened in May. " The whole encounter was scary," said Elijah to KWTX in May
"I was really scared. I rolled Grayson over, and he was kind of smiling a little bit. I thought they were just joking, but when I rolled my dad over, the middle of his head was bleeding and his face was already purple," said Elijah to KWTX in May.
At the time, Matthew Boggs' death was the third lightning fatality in the United States and the first in Texas.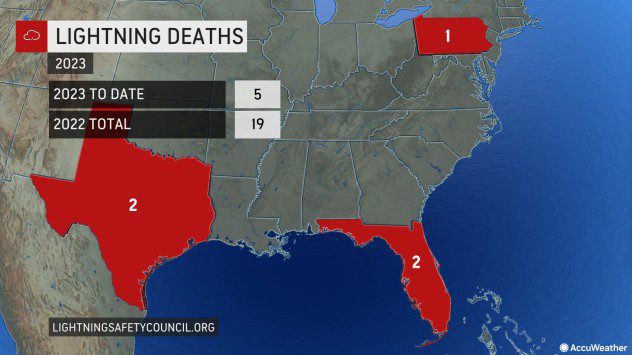 Since then, there has been one more additional lightning-related fatality. On May 22, 24-year-old Edvin Velasquez Cinto was killed when a lightning strike knocked him off a roof he was working on.
Grayson's death marks the fifth lightning fatality in the U.S. and the second in Texas this year, according to the National Lightning Safety Council.
Based on the past 10 years, the U.S. averages five lighting fatalities through June 16, according to National Lightning Safety Council data.
Produced in association with AccuWeather
Edited by Judy J. Rotich and Virginia Van Zandt
The post Texas Boy Dies Following Injuries From Lightning Strike That Killed His Father appeared first on Zenger News.