Hollywood heavyweight Jamie Foxx was compelled to apologize to the Jewish community after posting a comment about betrayal that included Jesus Christ that some interpreted as antisemitic.
Foxx was angrily lashing out at a former friend who leaked to the media that he was blind and paralyzed which quickly went viral. Foxx is famously protective of his privacy and felt "betrayed" by the alleged perpetrator of this rumor.
Subsequently, Foxx, 55, posted this for his 19 million Instagram followers that some in the Jewish community took umbrage about:
Judas, who was Jewish, has long been portrayed as the ultimate betrayer whose act of disloyalty ultimately led to Jesus' predetermined crucifixion. Some in the community are outraged.
"I am a Jewish advocate who fights antisemitism. Jamie Foxx's post was a horrifically antisemitic message rooted in classic blood libel and anti Jewish conspiracy theory," one critic wrote, according to Page Six. Another concurred, saying: "Seeing someone like Jamie Foxx post antisemitic content is a sad reminder that Jews can't just exist like most everyone else. There will always be people who hate us."
After some in the Jewish community articulated their outrage at Foxx's statement, Foxx deleted the post and quickly followed up with a mea culpa.
"I want to apologize to the Jewish community and everyone who was offended by my post," the Oscar winner penned on IG on Saturday.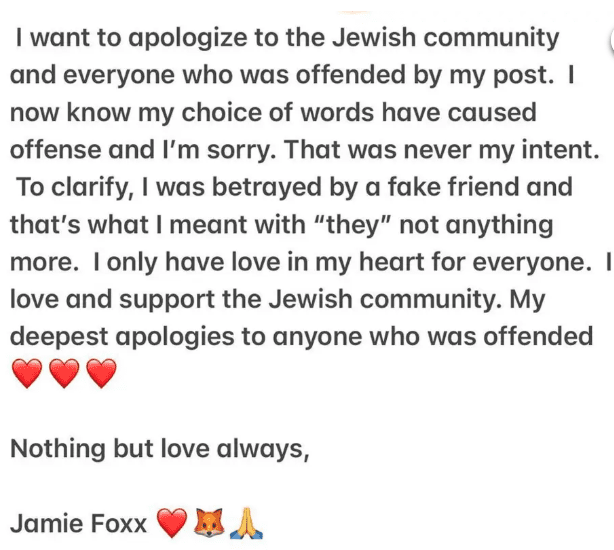 Others in the Jewish community, however, understood what Foxx was saying and defended him.
"I am Jewish and I thought it was one helluva leap to call it antisemitic. I knew exactly what you meant. Everybody needs to chill."
Fellow acting icon Jennifer Aniston got swept up in the imbroglio when allegedly liked Foxx's post and had to come back to defend herself.
"This really makes me sick. I did not 'like' this post on purpose or by accident," she wrote on her IG story.