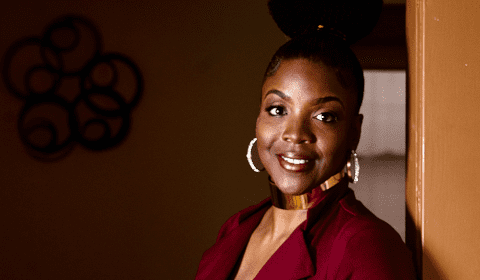 The hair and beauty industry is a booming business sector with projected global sales expected to reach $131 billion by 2026, according to Statista's research department.  The Twin Cities Hair and Beauty Expo will take center stage in that arena on Aug. 12-13, to promote beauty culture and entrepreneurial empowerment in the upper Midwest.
More than just a showcase of hair and beauty trends, this expo goes beyond basic discussions, recognizing that true beauty encompasses much more than what meets the eye. The organizers encourage the holistic approach to beauty, including financial wellness, mental well-being, physical health, and the nurturing of community and economic growth.
Now in its fifth year, the expo will present an all-male panel, From the Heart of Black Men, addressing mental health and issues affecting Black men.  
Tephanie Delaney, co-founder of the Twin Cities Hair and Beauty Expo, and the chief visionary officer of Wild-Eyed VisionAries Media Consulting Group talked with rolling out about the inspiration for the expo and the outcomes she hopes to achieve. 
What inspired you to start the Twin Cities Hair and Beauty Expo? 
In 2016, while working in corporate America, I noticed a lack of opportunities for women of color to embrace their natural hair in the Twin Cities. This inspired me to co-produce a symposium dedicated to empowering women of color and changing beauty perspectives. The event exceeded expectations, attracting around six hundred attendees and solidifying our mission to foster an inclusive environment for embracing natural tresses freely and unapologetically.
Why did you add a Black male panel to this year's hair and beauty expo?
This year co-founder Briana Cress and I decided to share our stage because we often hear there's a lack of safe spaces to open their hearts freely. We believe it's important for Black men to have conversations about mental health, especially in the aftermath of events like the tragic killing of George Floyd. Our panelists include Stevie Baggs Jr., Jamil Ford, Teto Wilson, Tyrone Minor, Deandre Mills, Tommy McNeal, Rob Malloy, and Ronald "Wink" Woodall. Such events' impact can profoundly affect the mental well-being of individuals within the Black community. Black men, in particular, experience unique challenges and emotional burdens that must be discussed. 
What objectives do you hope to achieve through this panel? 
We aim to raise awareness by presenting multiple points of view and sharing relatable experiences so that participants realize they are not alone in their journey. By examining mental health through the lens of successful Black men, we strive to build awareness and foster a sense of community. I believe no one is exempt from facing mental health challenges, and we can all benefit from support and advocacy for mental health in Black communities. Together, we can make an impact and create a stronger support system for everyone's well-being.
Why highlight Black men's experiences in addressing mental health challenges? 
I hope our panelists can serve as myth-busters and provoke dialog by vulnerably sharing their experiences. The plan is to leave the audience understanding that regardless of your level of success, outward appearance, and personal circumstance, all Black people face challenges and need support.