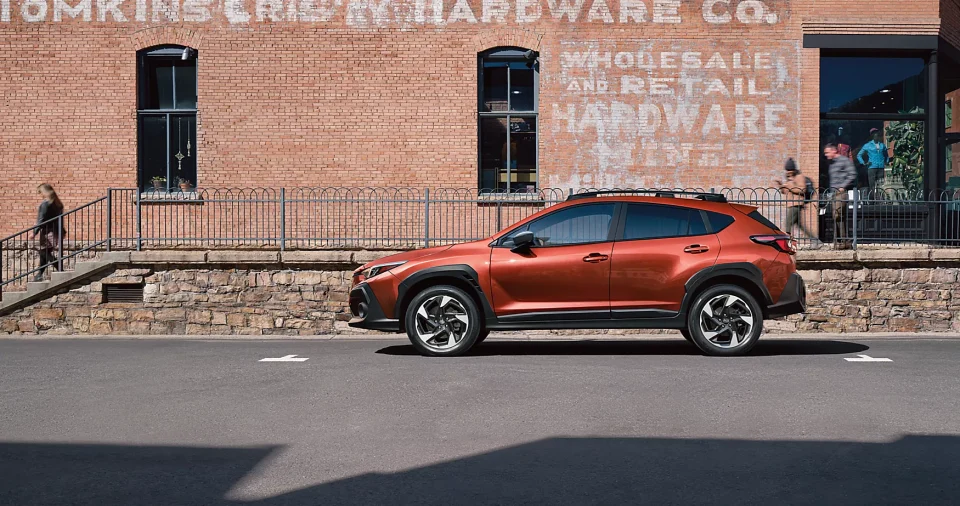 The 2024 Subaru Crosstrek continues to uphold its reputation as a versatile and capable compact SUV. With its combination of off-road capability, fuel efficiency, and practicality, the Crosstrek offers a remarkable option for those seeking adventure without compromising everyday versatility.
The 2024 Subaru Crosstrek sports a rugged and athletic exterior design, showcasing Subaru's signature styling cues. With its aggressive front fascia, prominent grille, and sleek LED headlights, the Crosstrek exudes confidence on the road. Thoughtful design elements, such as the raised ground clearance and pronounced wheel arches, hint at its off-road capabilities. The available roof rails add functionality and are perfect for mounting adventure gear, further enhancing Crosstrek's go-anywhere attitude.
Step inside the Crosstrek, and you'll find a well-designed and ergonomic cabin that provides comfort and practicality. The interior offers generous headroom and legroom for both front and rear passengers, ensuring comfort on long drives. The seats are supportive and provide a commanding view of the road. With its versatile cargo area and split-folding rear seats, the Crosstrek offers ample space to accommodate both passengers and cargo, making it perfect for weekend getaways or hauling gear for outdoor activities.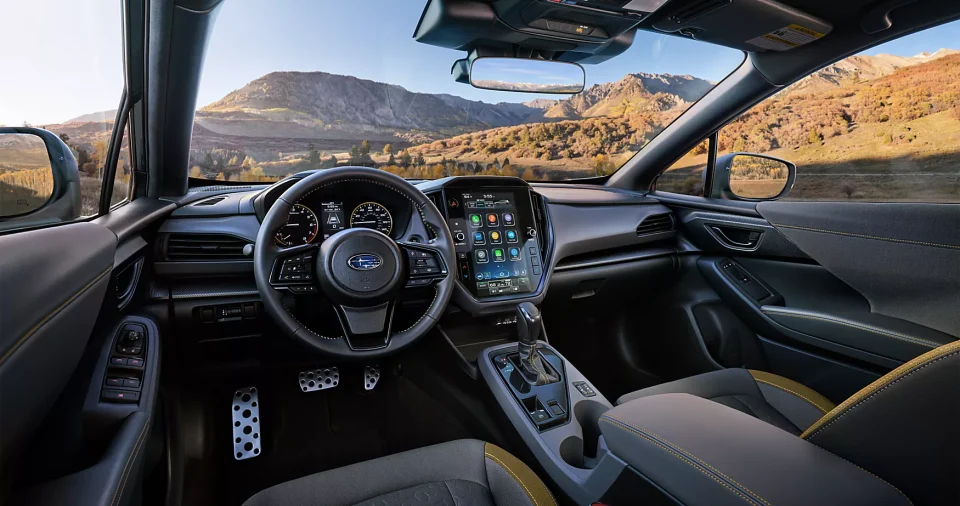 The 2024 Crosstrek is equipped with a host of modern and intuitive technology features. The standard infotainment system features a user-friendly 8-inch touchscreen display with Apple CarPlay and Android Auto integration for seamless smartphone connectivity. The available Harman Kardon premium audio system delivers impressive sound quality, enhancing the enjoyment of your favorite music or podcasts. The Crosstrek also offers a suite of advanced driver-assistance systems, including adaptive cruise control, lane-keeping assist, and automatic emergency braking, providing an extra layer of safety and convenience.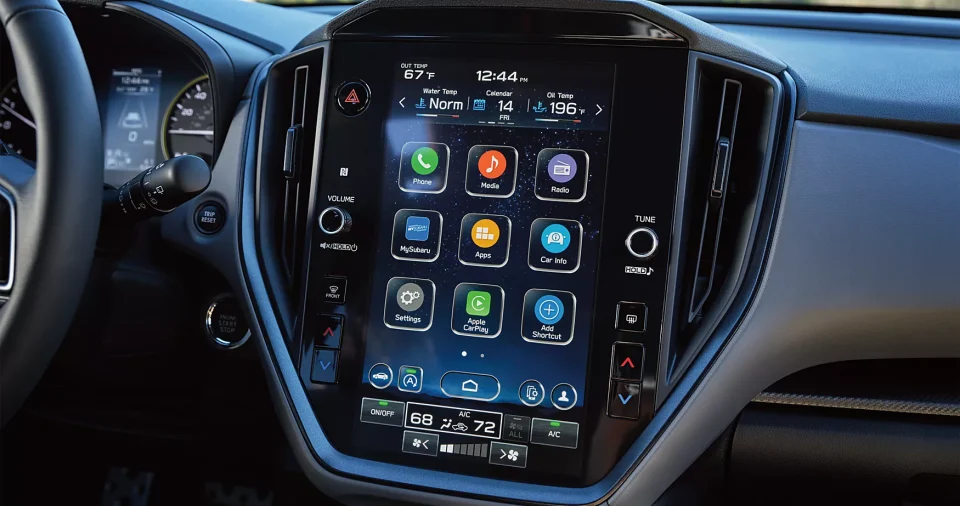 The Crosstrek's performance lives up to its adventurous persona. Powering the 2024 Crosstrek is a responsive 2.5-liter four-cylinder engine that delivers 182 horsepower, providing ample power for both city driving and off-road excursions. Subaru's legendary symmetrical all-wheel drive comes standard, enhancing traction and stability in various road conditions. Whether you're traversing rugged terrain or navigating through city streets, the Crosstrek offers confident handling and an engaging driving experience.
Subaru has managed to strike a balance between performance and efficiency with the 2024 Crosstrek. The combination of its efficient engine and Subaru's commitment to fuel-saving technologies allows the Crosstrek to achieve impressive fuel economy ratings. This ensures that you can enjoy long drives and adventurous journeys without constantly worrying about refueling.
Subaru places a high priority on safety, and the Crosstrek excels in this area. It comes equipped with Subaru's comprehensive EyeSight driver-assistance technology, which includes features like pre-collision braking, adaptive cruise control, and lane-keeping assist. These advanced safety features contribute to the Crosstrek's excellent safety ratings, providing peace of mind for both the driver and passengers.
The 2024 Subaru Crosstrek holds true to its reputation as a capable and versatile compact SUV. Its rugged exterior design, practical interior, advanced technology, and impressive safety features make it an attractive option for both daily commuting and weekend adventures. With its confident performance and go-anywhere attitude, the Crosstrek continues to be a top choice for those who value versatility, reliability, and the spirit of exploration. MSRP $30.895. Tested vehicle with options $34,635.