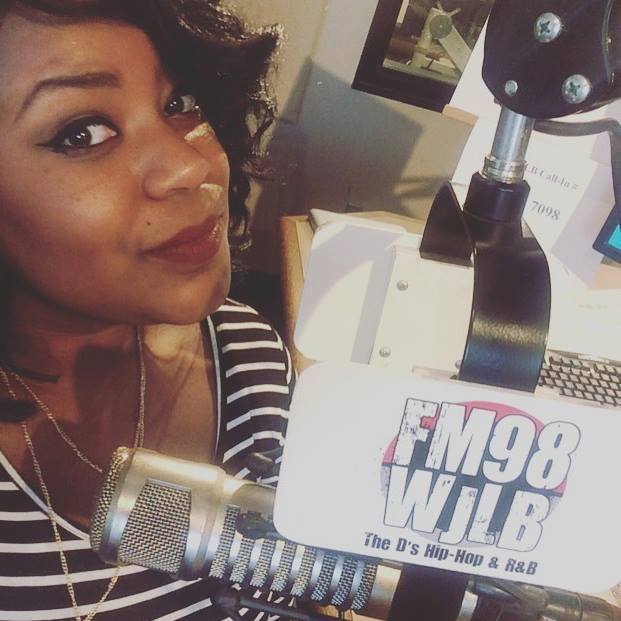 Source: Facebook Kirby Gwen
Middays can be a struggle. Fortunately, Detroiters have radio personality Kirby Gwen to motivate them through the monotony. As host of "Middays and Mascara," Gwen's infectious energy engages listeners from 10 a.m. to 3 p.m. on FM 98 WJLB. In addition to her on-air duties, she supports local businesses, kicks it at events and gives back to the community. Rolling out enjoyed our time with Gwen as she spoke about her passion for radio, her best celebrity experiences, items on her bucket list and more.
Tell us about Kirby Gwen.
I'm so many different things. I am a very free spirit that is striving to enlighten and entertain a community that has given so much to me. My goal has always been to uplift people and make them feel good about where they're from, no matter what their circumstances are.
Do you have any children? Boyfriend? Girlfriend?
I love men! I am single; I have no children. Some days I'm like, I'd love to be a mom, but then some days I'm like, I can't even keep plants alive. It's so weird to date, right now.
How did you get into media?
As early as first grade, I remember being obsessed. I would get in the car and my parents would be so mad at me 'cause I would have to run the radio. I had to see what was on every station. Listen to my songs, see who's talking. When I got home from school I would turn on the radio. I fell asleep to the radio; I woke up to the radio. I loved to hear how they would paint a story. It really made me feel a part of the city. That transitioned into me going to art school. My two loves have always been media and painting and arts. I tried to be an artist; it was fun, but it wasn't for me. It [Being in media] was something that I was always called to do. Being on the radio in Detroit is a full circle dream.
Which albums and artists have influenced you?
Fleetwood Mac. I've always loved the lyrics in some of the songs they made. Diddy has always been inspirational to me. Beyoncé, of course; Tracy Chapman and "Fast Car"; Janet Jackson and Velvet Rope. 
What does the show's title "Middays and Mascara" mean?
I love makeup. My grandmother was a beautician and my auntie is a nail tech. I'm a girly girl — but I'm not a girly girl. Sometimes you might catch me running out to the grocery store with a nappy bun. But I really do love getting dressed up. "Middays and Mascara" speaks to that feminine side of me, that love of beauty, that love of all things womanly. And I'm on [WJLB] during the midday.
As a woman in media — especially a curvy woman, what are some challenges you face?
Body image has been a challenge for me throughout the course of my journey. As a woman, you're in an industry where people are constantly looking at you. For a long time, I've done the yo-yo diets, the shakes, the pills. My weight has fluctuated throughout my 20s. Now I'm finally in a place where it's more about health for me.The self-care has never come from a place of love, it's always been from a place of vanity. I find that now, it's really about striving for self-care and inner peace and making sure that I am whole and loving myself. I find that the more I'm whole, the more I take time for myself.
I just want to give the truest essence of myself to the people. This is me, this is who I am, this is the body that I'm in, I love myself, I'm happy, my spirit is right and my bills are paid. Whoever you are at this moment — be the best version of yourself possible. Reflect that, because somebody else is in that moment. Me covering up, trying to be somebody else, how does that further my mission of trying to help somebody and inspire them?
Balance is the other struggle. I'm up at 3:30, 4 o'clock in the morning. You have those type of days; you still wanna be amongst your peoples, you still gotta make time for your family. You want romance [in your] life if you can get [it]. It's about finding balance and making sure your life is in flow and everything is even.
What has been your best celebrity experience thus far? 
It's between Tank and Big Krit. Big Krit came in and you could just feel the kindness — that Southern gentleman. He smelled so good. He was so nice, it was amazing. Tank was fun. I didn't know what to expect but he came in and he was so funny and relatable. That was one of the ones where I had to strive so hard not to be freaked out. Celebrity sounds enticing, because I think, at our core the one thing we desire as human beings is to be validated and to be loved. And that is what people really look at a celebrity as. It's the ultimate platform to be validated and to know that you are loved.
Michael Ealy or Idris Elba?
Woooo! Can I have them both? I love them both for different reasons. I can't pick.
Beyoncé or Solange? Do you want some Lemonade or A Seat At The Table?
This is not easy! Can I have a seat at the table with my lemonade? I'mma go with Beyonce. She got us in 'formation,' she opened up the gates for Solange.
Tell us about two or three things on your bucket list.
I want to hike the Grand Canyon. I want travel to Maldives. I want to go on a solo adventure there. I would love to build something concrete that's going to be here even when I'm gone. Something that will help people, like a school or a resource center.
Which issues stimulate your activism? Besides radio, what are you passionate about?
Injustice on all levels. When you see people who are born into situations where they have no control over it. Poverty is generational. To see someone struggling to get ahead and every time there's a stone in their way. Helping people receive access to education and health care.  I recently became a Wish-Upon-A-Teen ambassador. We ensure that kids who are terminally ill, they are able to have access to opportunities and experiences. We do room makeovers in their hospital rooms and they have a prom. It's really awesome.
Finish this sentence: My must-have accessories are …
Some good hair and some good shoes.
You can follow Kirby Gwen on all social media.
Photo gallery courtesy of Kirby Gwen