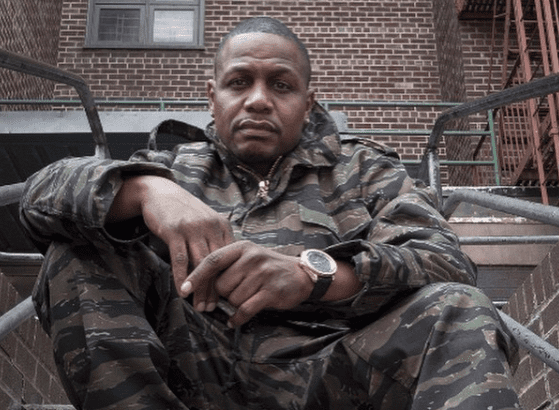 AZ stands as one of the greatest lyricists to ever touch a microphone in hip-hop. The Brooklyn, New York native gained prominence in rap following his poignant verse on "Life's a B—-" from Nas' classic Illmatic album. He would later release his own classic album, Doe or Die, before releasing other solid projects such as Pieces of a Man and Aziatic.
AZ recently returned to the forefront of rap for the fans who missed his vivid wordplay and captivating storytelling. He teamed up with Raekwon and the late-great Prodigy before his untimely death to give hope to a generation. The new single "Save Them," is reminiscent of the lyrical prowess of the golden era of hip-hop. It opens with a speech from Minister Louis Farrakhan before the three emcees tear into the track produced by Buckwild.
AZ spoke with rolling out and shared his thoughts on the new song "Save Them," the update on the release of Doe or Die 2, and the art of creating classic hip-hop.
The latest single "Save Them" features a snippet of a speech by Louis Farrakhan. Why was it important for you to take a clip from the Minister and place it in this song?
Farrakhan is the voice of the hood. He's a voice of the world. He's for our people and he's been there since the beginning. So at the end of the day, he has that powerful speech that was needed to reach the people. When you hear his voice, you will fall back and you'll take notice and listen. And that's what I was trying to get across to get the ears of the youth. When I was putting this record together, a lot of my peers and fans were like, 'Yo, you got to save us!" And I use to be like, 'Save you from what?' and they would say, 'The music now has no substance. We need substance. Save us."  So that's where I got the title from.
Why was it an important decision to add Raekwon and Prodigy on this album?
Their swords are sharp lyrically. And we all love lyrics. We wanted to bring that to the table. So me knowing that their discography contains nothing but that and they specialize in that.
We have to talk about Doe or Die 2. What's the overall feel of the new project?
At the end of the day, it is still a music business and a lot of people fail to understand that. And I've been in the game for a while. I'm just trying to make the best decisions as well. Creative-wise, I'm there. I've been recording since 2011-12. I have a lot of songs and as times change and the different vibrations change in the music game, you know I keep adding on. But the delay is just connecting with the right business source and just trying to get a marketing plan together that's going to work for me being this is my last album. So that's kind of the delay. I'm looking forward to releasing it at the end of this year
How does it feel to have released classic albums that are still impactful 20 years later?
That's a blessing within itself as well. I didn't know much about the game what's so ever when I got signed. All I had was 12 verses so let alone not 12 songs. So it was a learning process for me as well. And then you know coming straight from the streets and hoping into music and being able to lay your life and your experiences down on wax was big at the time. So, what I felt that what I did resonated. I built the fan base that I have now that's just real and connecting to the people. And I'm blessed that it's still a classic honestly. And all the other albums I put out all of them are just chapters of my life.
Most people first heard you on the classic album Illmatic. How did you and Nas develop such great chemestry?
We had no idea things were going to be the way that they were. We were just doing it out of the love for the culture and the love for hip-hop and us just sparring.  We always sparred and kept each other sharp. And who would have ever thought that 20 years later it would be considered one of the top classic albums in the world. The vibe carried on with us and whatever we did we just always tried to turn it up a notch. Turn it up a notch and always sprinkle a little bit of everything into our poetry. That's me and my brother right there.
Who are some of the new artists who you are feeling right now?
I'm still stuck on artists such as J Cole, Drake, Kendrick and Meek.  They are now carrying on the torch. I love all artists that come out and do their thing. Just having the ability to put albums together and market and promote and go on tour is just a blessing within itself. But I just try to stay within the classics. I listen to a lot of classic hip-hop. I just try to stay in a certain zone and certain lane that's all. I love lyrics.
Do you have a personal top five?
It's so many artists from so many eras and so many genres, like how can you pick a top five? It's impossible I think. Like even the artists that I love such as Slick Rick, LL Cool J, KRS-1, Rakim, and Kool G. Rap. Like, they had those that they looked up to such as Melly Mel. And it's so many other artists. So I couldn't even pick five. It would just be disrespectful.