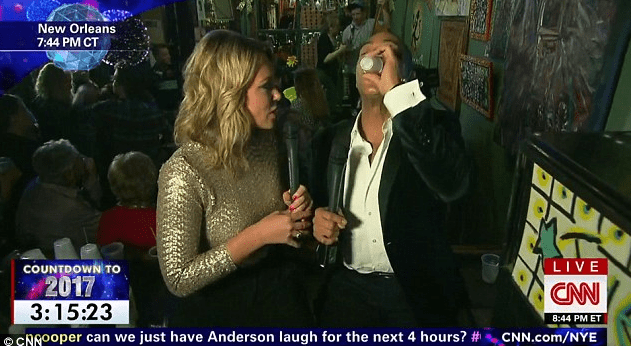 Don Lemon
started 2017 with a bang. Last night, the veteran anchor was recorded throwing back tequila shots during CNN's live NYE broadcast in New Orleans. His lovely co-host Brooke Baldwin was beside him to witness Lemon's adolescent behavior and she looked mortified, to say the least. As the alcohol glasses kept flowing, Lemon expressed his anger about how awful of a year 2016 was.
He also let millions of viewers into his personal life and announced that he may be open to a relationship and declared that he won't be "as self-centered" in the coming year. As midnight drew near, Lemon let loose.
"Happy New Year," Lemon could be heard saying. "Oh, my God! I need a little more – pour me a little more – a little more – perfect. That had a big head on it."
Shortly after his rant, Lemon recruited a body piercer and had a needle stuck through his earlobe live on television.
"It hurts so bad! Don't get blood on the jacket," he shouted.

If that wasn't explicit enough to pull the plug on the segment, then the sky is the limit on what content is considered suitable for cable. His commentary was so comical that even President-elect Trump decided to poke fun at Lemon's drunken state calling him a called a '"lightweight" and "dumb as a rock."
As Lemon spiraled out of control he eventually dropped his mic causing CNN to cut the sound.
Was Don Lemon's behavior inappropriate?