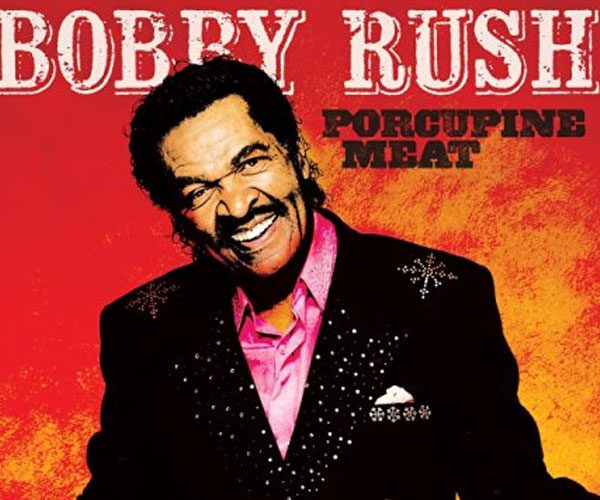 This year the Grammy Awards will feature a living legend as bluesman Bobby Rush, 83 is up for Best Traditional Blues Album.  His album, Porcupine Meat, is full of the soul, funk and blues that Rush fans expect. The album is titled after a featured track with some great lyrics about some good love, which is actually bad. Speaking of her love he sings, "I know it ain't right, oh it just ain't fair. I want to leave, but I just can't go nowhere [sic]. It's like porcupine meat, too fat to eat, too lean to throw away."
"I wrote this song because I was in a situation with a lady I knew. She didn't mean me no [sic] good but she made me feel so good. If I stayed with her I'm dead, and if I leave her I'm dead. Anytime a situation comes to me like that I try to find words to put to song. A porcupine looks really good with stickers on it, but you better not touch it — on the inside, its meat is too tough to eat. So there you get 'porcupine meat, too fat to eat, too lean to throw away," Rush explained.
The octogenarian is not a stereotype of an old blues singer, sitting on the back porch singing outdated songs. During live performances, he has beautiful dancers on stage, dresses sharp and moves like a much younger man. He does at least 200 shows a year and is constantly traveling from his home in Jackson, Mississippi, to points literally all over the world. Every summer Rush is on all the big blues festival circuits and is a featured headliner. But his fan base goes beyond the United States. Besides Europe,  Rush has a huge following in China. In 2007, he made history as the first blues artist to perform on the Great Wall of China to thousands of adoring fans.
Rush estimates that he has recorded over 375  songs and was an early innovator of changing the image of blues into a genre that now has a huge crossover audience of White fans. During the 1970s, he was the first artist to gain a hit by fusing elements of traditional blues, soul and funk and created a genre of blues called "soul blues," which is most popular among Black blues fans in the South. His big hit, "Chicken Heads," sold over three million copies in 1971.
In a strange twist on the state of Black music, he often finds himself in competition with White artists who are increasingly becoming the face of the blues in America.
The list of nominees for Best Traditional Blues Album includes:
Can't Shake The Feeling – Lurrie Bell
Live At The Greek Theatre – Joe Bonamassa
Blues & Ballads (A Folksinger's Songbook: Volumes I & II) – Luther Dickinson
The Soul of Jimmie Rodgers – Vasti Jackson
This will be Rush's fourth Grammy nomination in a career that has spanned 60 years and earned him the title "Dean of the Blues."