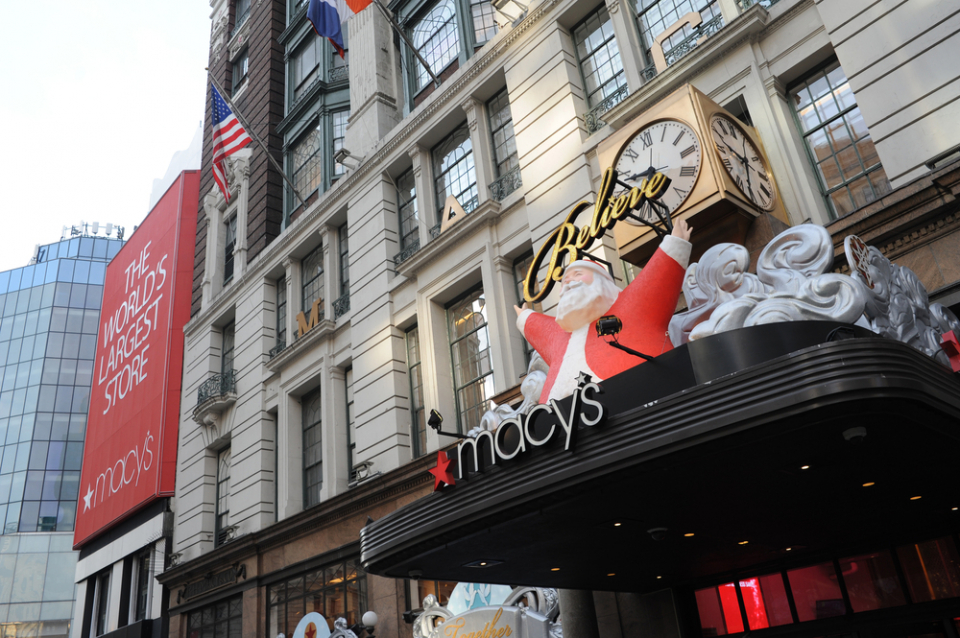 Amid reports that Macy's is closing 100 of its 730 retail stores, the big-box retailer is opening stores in California, Utah, Connecticut, Abu Dhabi and Kuwait.
The actions announced on Wednesday, Jan. 4, 2017, are estimated to generate annual expense savings of approximately $550 million, beginning in 2017, enabling the company to invest an additional $250 million in growing the digital business, store-related growth strategies, Bluemercury, Macy's Backstage and China. These savings, combined with savings from initiatives implemented in early 2016, exceed the $500 million goal communicated in fall of 2015, one year earlier than expected.
"Over the past year, we have been focused and disciplined about making strategic decisions to position us to gain market share and return to growth over time. While we are pleased with the strong performance of our highly developed online business, as well as the progress we have made on selling and visual presentation programs and expense reduction initiatives in 2016, we continue to experience declining traffic in our stores where the majority of our business is still transacted. Given the overall trends challenging us and the broader retail industry, and the time needed to execute new strategies, we expect our 2017 change in comparable sales to be relatively consistent with our November/December sales trend," said Terry J. Lundgren, chairman and chief executive officer of Macy's, Inc in a statement. "Our omnichannel strategies continue to evolve based on the changes in our customers' shopping behaviors, including a focus on buy online, pickup in store and mobile-enabled shopping. In addition, we have invested in and enlarged our customer data and analytics team, which will help drive our new marketing strategies for 2017. Whether it is improving corporate agility, enhancing our customer engagement strategies, or continuing to capitalize on the potential value of our real estate assets, we remain focused on the actions that will ultimately improve our financial results and provide the greatest return for our shareholders."
Four new Macy's and Bloomingdale's stores are currently planned and/or under construction, as previously announced.
New Macy's stores will be opening in:
Westfield Century City, Los Angeles (a 155,000 square-foot store to open in spring 2017; Macy's previously operated a 136,000 square-foot store in this location which closed in January 2016);
Fashion Place, Murray, UTAH (160,000 square feet; to open in spring 2017; approximately 150 associates)
New Bloomingdale's stores will be opening in:
Westfield Valley Fair Shopping Center, San Jose, CALIFORNIA (150,000 square feet; to open in spring 2019; approximately 250 associates);
The SoNo Collection, Norwalk, CONNECTICUT (150,000 square feet; to open in fall 2019; approximately 200 associates)
In addition, in the next two years, the company plans to open approximately 50 additional Macy's Backstage off-price locations (all of which will be inside existing Macy's stores) and about 50 Bluemercury beauty specialty stores (freestanding and shops inside existing Macy's stores).
Internationally, under license agreements with Al Tayer Group, a new Bloomingdale's store is planned to open in 360 Mall in Al Zahra, Kuwait in Spring 2017 and new Macy's and Bloomingdale's stores are planned to open in Al Maryah Central in Abu Dhabi, United Arab Emirates, in 2018.
The Al Maryah Island Macy's location will be their first outside of American shores and will be 205,000 square feet of retail space to explore. Dubai currently has a Bloomingdale's at The Dubai Mall. The first branch in Abu Dhabi is set to be 230,000 square feet of pure shopping. The new store in Abu Dhabi will be the largest Bloomingdale's store in the region.
Al Maryah Central Retail will also feature an open-air, rooftop food hall, rooftop parks as well as a multi-screen cinema, health club, food market, children's entertainment and an outdoor amphitheater, as well as two integrated towers with a mix of hotel, serviced and residential apartments.