"Don't give up on your dreams, or your dreams will give up on you." — John Wooden
The quote above, which was popularized by a legendary UCLA basketball coach, could very well serve as the prologue to Simone Missick's autobiography. As an actor, the journey to greatness was never linear, and it required a great amount of self-belief that the seemingly impossible was indeed attainable.
Much has been chronicled about Missick's breakout turn as Misty Knight in the hit Netflix series "Luke Cage." And while her time in the Marvel Universe is only just beginning, it felt right to take a look back at the steps that transformed her into the beautifully confident woman that she is today. As with every great superhero story, the origin story is crucial. In Missick's case, that could not be more true, as her story replicates the authentic American dream, where hard work and perseverance pay off in the end.
This is her fascinating origin story.
Let's take it back to the beginning, because your journey fascinates me. When did you know that acting was your true calling in life?
I was about 7 years old and I just remember always acting a fool for my family. I remember watching TV and movies, and saying, "That is what I want to do." So when my sister was in high school, she was doing theater. I remember her doing a scene from Fences by August Wilson and watching her do that monologue just confirmed for me that this was absolutely what I had to do with my life. And I was 8 years old at that point, so my sister really was my inspiration.
Well, it's one thing to have that dream as a child, but there are many who find that road to be extremely difficult. What about your path? How easy was it for you to transition your childhood dreams into a reality?
I remember when I moved to L.A. I was 23 years old, and I thought to myself that in five years, I was going to be a success. I just knew that I was going to be successful at 28 because Gabrielle Union did Bring It On at 28, so I was convinced that was going to also happen to me. But when 28 came and went, I was left to face the fact that my plan didn't quite work out in the way that I had envisioned. But I always had my mom there to encourage me. She would always read me articles of actors or actresses that it took them more time to be successful. For some, it would be 8 or 10 years before they became a success, so I was thankful that she was always providing me with those reminders. That's when the dream changed for me. It was then that I told myself, "You know, maybe this dream isn't going to be as immediate as I would like, but I know it's going to come." And so I just kept working hard and figuring out what were the holes in my game. What were the things that if someone called me up and asked me to do it, that I would be unable to? Once I identified those things, then I would spend the next six months to a year just focused on those things, so that when the opportunity came I was ready. Looking back, it has been a long journey, and a difficult one, but I thank God that it played out in the way that it has, because I wouldn't have appreciated it, and I would not have received it in the same way if I had been given success earlier when I wasn't ready.
It sounds like a fairytale the way it all played out. But before you landed the role of Misty Knight on the Netflix series "Luke Cage," were there times when you wanted to give up? If so, what pushed you through?
I'll tell you this: everything started to change when I met my husband. I met him in 2010, and he was already a successful actor at that point, as he had been doing it since he was a child. And he would always tell me, "You're so close. I see the work that you are doing, and I know that you are right there. I see the women that I'm working with on set each day, and you're just as good, if not better than they are. All you need is the opportunity."
But if someone had told me when we met that it would take an additional five years after [that] for [my] big break to come, then I would have completely accepted that and served my time. But no one was able to tell me that. So I experienced another five years of no's, or "Yes, but only this," or minor successes that no one cared about but me and my family. So there were a lot of dark moments for me, and times when I questioned God. I would pray and ask that if this was not meant for me, then please just take this from my heart. I would pray for God to just remove it from my desire, and show me what it is that he wanted me to do instead. And every single time, I got a job … [it] would never be the job, but it would always be a commercial, or a play, or a short film, and as small as it was, it taught me to be appreciative and to work hard in those little things, because the word says, "He who is faithful in least, is faithful in much." So, I knew that if I was thankful in the small victories, that when the big job did come, I would completely appreciate it.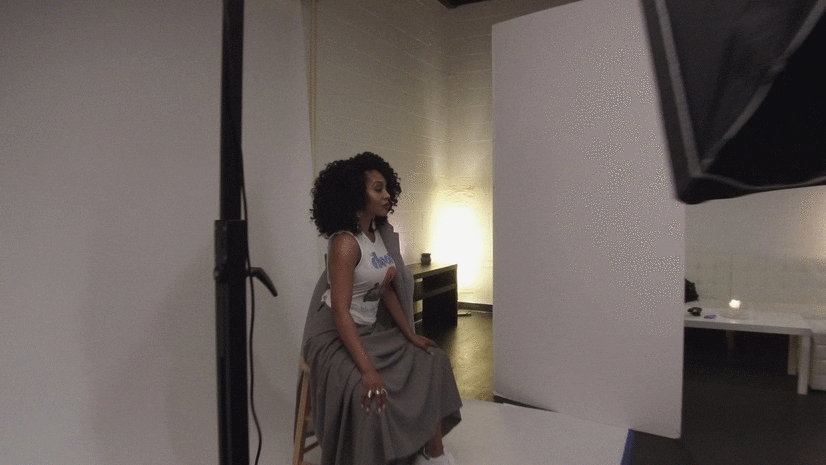 It really feels like faith has played a tremendous role in your journey. Am I reading that correctly?
You absolutely are. I can think back to me making lists of all of my dreams and desires, and year after year, I wasn't checking many things off that list. That was a hard pill to swallow. So it not only showed me the importance of having faith, but it also strengthened my faith. So, I learned the value of prayer and of just believing in God and having the will to just keep pushing on when everything around you is telling you that it's not going to work out.
How was life growing up in Detroit? Whenever I meet people who are from that city, they seem to have this resilience about them.
Growing up in Detroit is the best thing that has ever happened to me that I did not choose. Detroit is such a great, grounded city with people who are real salt-of-the-earth, hardworking folk. And I grew up with a lot of people like that … people who with them, there is no pretense, or fakeness. And that was amazing, because when you are an actor, you have to learn how to study people and to be real, and so that was one gift. But outside of that, I was fortunate to grow up in a very strong cultural environment around a lot of Black people, who when you are judged, it is not as "the Black girl in class," or as "the only minority." I grew up being judged as Simone, the kid who is kind of weird, and is a little goofy, but also really smart. For me, that was a confidence builder, and it did so much to help shape me into the woman that I am today. I am forever grateful to that city, and to the people who allowed me to be me. I wish that more people could experience that, and I hope that one day when I'm able to start a family that my kids will be able to live in an environment that also encourages that.