Logan Laurice Browning is navigating the streets of Los Angeles like a seasoned Black woman boss, metaphorically and literally. To the former, the starlet eagerly awaits her debut as the lead character in "Dear White People," which premieres April 28 on Netflix. To the latter, she's actually whipping what I imagine to be a wicked ride up Rodeo Drive during our phone interview. Reminiscing on her journey from child star to leading lady, she handles both her car and our interview with a confidence that only comes with experience. Her path to stardom started with a brief stint of basic training at Atlanta's Barbizon Modeling and Acting School, which was rewarded with a couple of television roles in her early teens. Her high school years culminated with a couple of major accomplishments — a starring role in Bratz: The Movie, and an acceptance letter from Vanderbilt University.
Besides her ambitious plan to continue spending time in L.A. during her college years to further her acting career, Browning lived a similar experience to many fellow Black freshmen stepping onto campuses of predominantly White institutions across the country. Students capable of hanging out with anyone find themselves seeking out other Black faces as a means of survival. Some schools proactively guide minority students toward each other by having them go through a separate orientation, at which they discover their fellow minority roommate. Others simply ensure availability of safe spaces — like the Black Cultural Center at Vanderbilt University was for Browning and her cohort a decade ago — where students learn to self-govern while easing the loneliness of being a single Black face in a White place. Browning gives her family much credit for making sacrifices that have allowed her to be successful in such spaces and in her career.
"I think it's important for people to share that, and not pretend they got some place on their own," Browning explained. "My parents, my siblings, and my relatives have made more sacrifices for me than I have for myself, if I'm being honest."
Many of those sacrifices likely came during a couple of lean years. She eventually left Vanderbilt to pursue her career in L.A. full time, but she found herself stuck there without a guardian when the writers went on strike. Just as she was considering packing it in and returning home, Tyler Perry came calling with a memorable role in "Meet the Browns," which was filmed in Atlanta.
Today, Browning personifies art imitating life as she tackles the role of Samantha White in the television version of the movie by the same title. The show is set at fictional Winchester University, which is like a Vanderbilt in how it can chew up and spit out those who lack a solid support system. The fictional Winchester campus in "Dear White People" includes historically Black dormitory Armstrong-Parker, which resembles an HBCU, as if it were a mini Hillman College. Browning likened the dorm setting to "A Different World" for the modern era, drawing contrast between civil discourse of the '90s and today's constant and contentious social media-driven news cycle.
"The atmosphere is similar to the Civil Rights Movement," said Browning in reference to real-world current events. "The difference is how quickly we hear the news and how quickly it spreads. Young people are being conditioned that social activism is part of their lives, whereas their parents didn't come up in such a highly politically charged environment."
Browning finds it inspiring that the youngsters are so interested and wanting to be involved. She expressed admiration of millennials like Yara Shahidi and Zendaya for their activism, and the mention of 2016 Vanderbilt homecoming queen Akaninyene Ruffin successfully leading a student movement also piqued her interest. More fervently in recent years, students at campuses like Vanderbilt, the University of Missouri, Yale, and several others seem to be battling oppressive policies as well as the retention of imagery and names of buildings romanticizing racist history.
Similarly, Browning's approach to acting is consistently evolving. Her lack of formal training early in her career was outweighed by her drive and work ethic, but she acknowledged that she is now playing catch up. Browning has been taking an acting class and learning more about theater to acquire those tools to help her prepare for roles.
"We have so many resources at our fingertips now," Browning said as she recalled how director Justin Simien and the cast of "Dear White People" worked together to bring something even more beautiful to the characters than what was in the pages of the script. "There's almost no excuse for character development being weak. I love talking to creators of shows. I always kind of look to them because it is their vision and their voice."
Browning indicated she is most drawn to stories she has never heard of but really wants to share — like the amazing mathematicians in Hidden Figures, for example. Not shying away from being a role model, the 27-year-old embraces her responsibility to reject roles that undermine the self-image of young Black women.
"I feel like maybe that wasn't in my mind before, but now I feel like I'm super conscious of what I say yes and no to," said Browning. "Even though you want to believe that anything can be art, you also have to think about how it's all media. … Art inspires how we look at each other, and I don't want to be a contributing factor to negative images or stereotypes …
"You have someone like Naomi Harris in Moonlight, who at first wasn't sure she wanted to play this drug addicted mother because she felt it was stereotypical until Barry Jenkins explained, 'You are playing my mom.' There is a human, she exists, someone loved her, and her story needs to be told. That's different to me. It's not just some cookie-cutter role for people to feel sorry for Black people. It's a beautiful person's story being shared — so that, I can rock with."
One aspect of her personal story Browning readily shares is the fact that she grew up in Clayton County, a part of metro Atlanta that tends to languish outside the spotlight in comparison to other areas of the city. She wants the world to know that creative people also come from her neglected hometown, in hopes that much-needed funding for the arts and art education will begin to flow there more freely.
"It's funny I always said Atlanta, but really I didn't grow up in Atlanta," Browning laughed. "I grew up on the southside. My mom and most of my friends still live there, and I go back a lot, I now feel even more responsible and conscious about saying I grew up in Clayton County because in Atlanta sometimes Clayton County doesn't have the best reputation for whatever reason. … So many artists have come from that Clayton County and Fayette County area and we all just say Atlanta. With all the industry going to Atlanta, it's nice to say, 'Actually, I'm from this specific part that's been overlooked.' "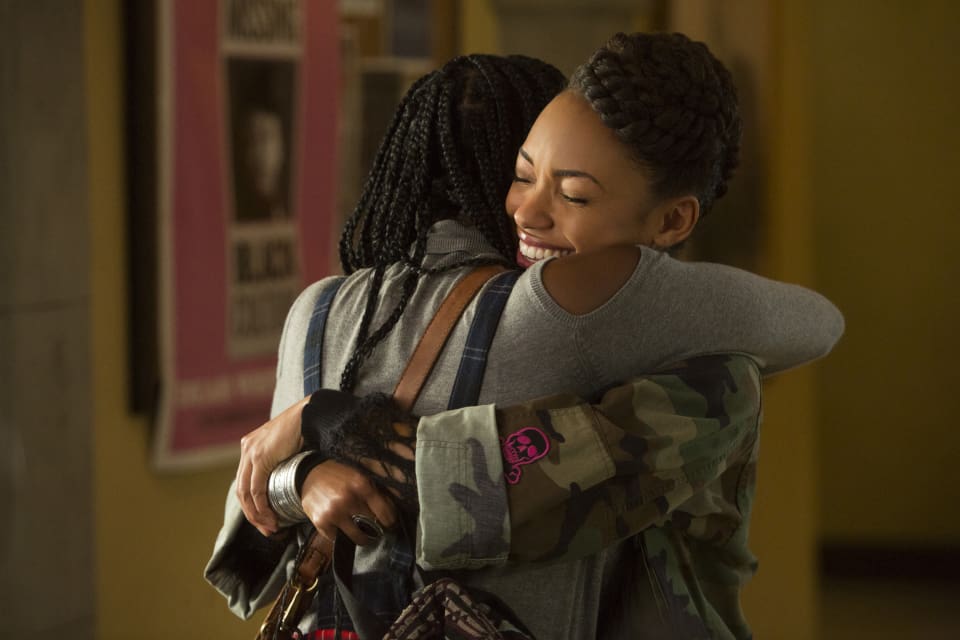 Her impulse to defend the marginalized and shine a light for those obscured in the shadows comes from a strong spiritual connection nurtured by her religious upbringing. Though she is rooted in Christianity, she becomes wary when people pit religions against each other or glorify one over the other. She finds a balance between sharing her deeper connection with others through her words and her actions.
"Everyone has a light but I try to be as transparent as I can because none of these people, including myself, are doing it because they shoot magical unicorn dust out of their butts," Browning explained with humor. "It sounds so simple in terms of having a calling or a cause, but it's actually really important to me because celebrities are just false idols, right?"
She thinks specifically of young impressionable Black women who feel misrepresented, or look up to famous people feeling there's no way they also can attain success.
"I wish we all glorified more women who are just doing kickass things in their regular lives as the heroes," said Browning. "I want to do more of this, personally, as I have so many friends who are doing amazing things but I'm the one, because I'm on a TV show, who is getting the publicity. I look at them as my heroes."
Browning offered a few parting pearls of wisdom for those looking to follow her advice. Recommended reading included The Alchemist, by Paulo Coelho, daily devotional writings by Sarah Young, and anything James Baldwin, including The Fire Next Time and the I Am Not Your Negro transcript. She said it is important to take the time to really get into his material. Similarly, with the movie Get Out, she suggests exploring the accompanying syllabus and learning more about the various underlying themes being conveyed.
Her strongest advice was based on hindsight due to her early career making her education sporadic: finish school and commit to honing your craft.