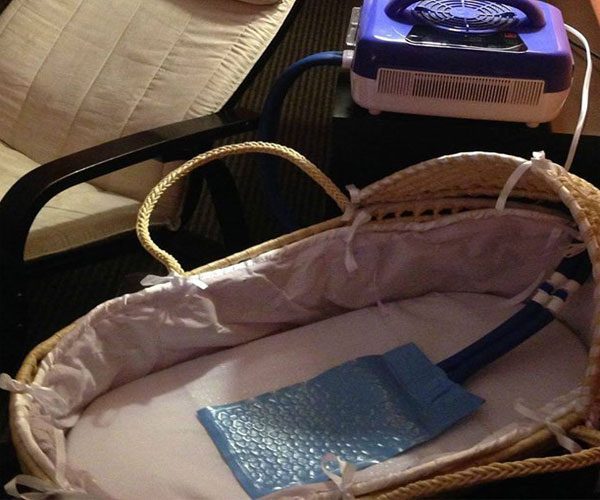 It is hard to imagine the grief of any parent who has gone through a difficult pregnancy that resulted in a stillborn child. Often times, the dead infant is taken away by hospital staff for disposal of the body or to be sent to a funeral home. However, many parents are taking their dead infant home to grieve until a funeral with a device called CuddleCots.
CuddleCots is a refrigerated cooling mechanism that preserves a dead infant's body for an extended time period. For advocates of the device, it allows parents a chance to better bond and grieve over their child. The device can be placed in a bassinet or wrapped around the infant and some parents have even taken their baby for walks in strollers as if they have a living child.  The device is widespread in British hospitals with at least 92 percent offering the item to bereaved parents.
There is also an initiative to spread the use of the device to the United States. According to information on the Facebook page US Cuddle Cots Campaign Initiative, there are at least 163 hospitals that offer the device in the United States currently. This does not include people or organizations that may be using CuddleCots anonymously.
According to the Facebook page, the CuddleCot is simple to use and requires no special skills or training. But the organization does offer "a two-hour in-service that centers around set up, take down and troubleshooting surrounding the use of a Cuddle Cot. Each in-service will be conducted by an individual who has experience in all of the above."
To find out if a CuddleCots is available from your hospital after a stillborn death, a patient should conduct the hospital social worker or bereavement services. You can also contact the US Cuddle Cots Campaign Initiative on Facebook or email the organization at [email protected] The cost of the device is around $3K.