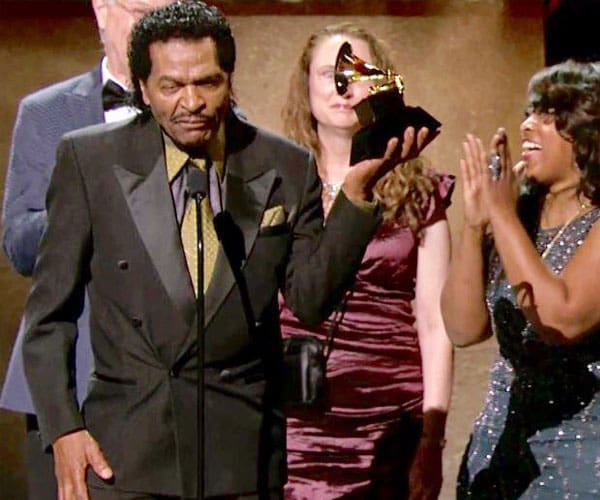 History was made last night as living legend Bobby Rush won his first Grammy at the age of 83. Rush had been nominated for Grammys three times in the past and his win this year has blues fans relieved and happy that he received the long overdue recognition. Rush has been called the "Dean of the Blues" and "King of the Chitlin Circuit" because of his longevity and popularity. His fusion of funk, R&B, blues — and in some cases rap — gives him a signature sound and stage persona.
Rush received his Grammy for "Best Traditional Blues Album" for the album Porcupine Meat. He told the crowd last night that he has recorded 370 records in a career that spans five decades. Receiving the award he said is "the happiest day of my life. I'm truly blessed."
This year, Rush was competing against much younger blues musicians who all respected Rush and two of whom appeared on his latest album. For some, it was also a reflection on the changing racial dynamics of White musicians who are increasingly being promoted as the next major blues artist and face of the music. Rush is one of a handful of remaining blues musicians, (along with Taj Mahal, Little Richard and Buddy Guy) who have decades of work and have influenced rock 'n' roll. In fact, there is video footage of Jimi Hendrix at a Buddy Guy concert with a tape recorder.  Part of Hendrix's playing style, including playing guitar behind his head, is a direct influence from Buddy Guy.
Rush told rolling out this morning:
"I feel so good. Better than I ever felt before in my life. I am thankful for my success and the way I did it. I did it by 'crossing-over' and not 'crossing out.' What I mean by that is I stayed true to my roots and my God's sight it is not a long time. Look at Abraham and Sarah, the Bible says it took them 92 years to have a baby. That is not a long time in God's sight. So even if I did not win the Grammy, I was happy to just be in the race. I was thinking of the people that believed in me and those who didn't believe in me the whole time, and you know what? I made believers out of the unbelieving. That was God working in my life. I am just  overwhelmed and I have to say nobody in my life 'gave' me anything. God gave it to me all the time. Now it is up to me to show that I am worthy of this Grammy by what I do next with my music and my life.  I want people to say 'If he can make it, I can make it.' I want to thank all who rooted for me, voted for and believed in me."
Rush is definitely the hardest working octogenarian in show business. The week leading up to the Grammys, he performed at three shows and made numerous public appearances. But he is still not resting, just one day after winning, he is performing in Los Angeles at the Maui Sugar Mill Saloon.