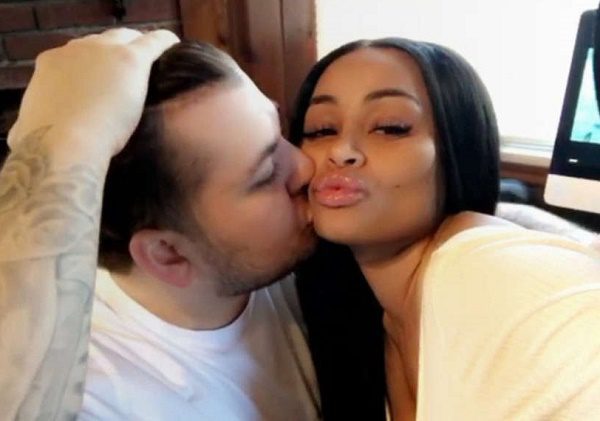 Have on-and-off again couple Rob Kardashian and Blac Chyna rekindled their romance?
In case you missed it, the pair, who have a 4-month-old daughter, Dream, appeared happy as ever in a new series of clips posted via Snapchat. In one post, the former video vixen appears to be sitting on the "KUTK" star's lap, while singing Kendrick Lamar's "Humble" to the camera. And, in another post the mother of two shows off her infamous curves while teasing the reality star with a little dance.
https://www.instagram.com/p/BSWqA1BgBJ0/?taken-by=blacchynasnapchats
Chyna also asks Kardashian for a kiss, which he happily obliges.
https://www.instagram.com/p/BSXOOdUAe89/?taken-by=blacchynasnapchats
While we're unsure of their relationship status, one thing is for sure, something is brewing between the former lovebirds, again.
Previously reported, in the pages of Cosmopolitan South Africa's April issue, Chyna revealed how she and Kardashian's relationship escalated. "It was a shock," she said. "I guess when you get to know somebody and you're around them, you see things in them — and you want to be more than just friends. I think that's what ended up happening."
https://www.instagram.com/p/BSWp3SrghtN/?taken-by=blacchynasnapchats
As fans of "Rob and Chyna" already know, during season one of their hit reality show, the duo aired out their dirty laundry, but, according to the LashedBar owner, she's still "in it for the long haul" with Rob.
"I feel like every person who's in a long-term relationship, or who is committed to their person, goes through ups and downs," she told the magazine. "Everything isn't always going to be peaches and cream. If it is, then it's fake. I'm in it for the long haul, so I feel like my advice [for anyone in a similar situation] is therapy, know each other's family, calling each other's moms."
On looking at the bigger picture, she said, "And we also have Dream. So we're looking at the bigger picture. We have a whole other human being that looks up to us, so we have to make sure she's taken care of.
"Once we made the decision to get engaged and have a baby, we became family. It's a beautiful moment and it's something I'll always have, you know? We all welcomed Dream into this world: how cool is that?"
What are your thoughts on the exes' roller-coaster relationship? Sound off in the comment section below.