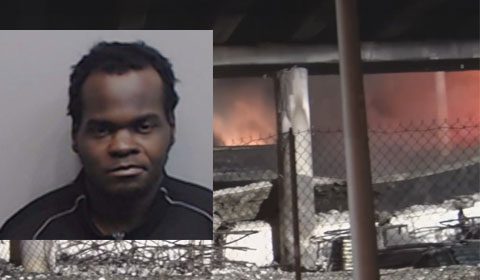 The recent arrest of a homeless man, Basil Eleby, 39, has become an issue that is exposing a rift within the city of Atlanta. Eleby, who is mentally ill with the cognitive capacity of a child, was arrested last week and accused of smoking crack and starting the fire that made a section of a bridge collapse on the I-85 highway near downtown Atlanta. Investigators charged Eleby with first-degree arson and felony destruction of property based on the statements of two key witnesses. Although Eleby stated he left the area before the fire started, the witnesses' account of the scene was enough for police to charge Eleby. Many feel that this is a significant issue as the witnesses against Eleby are a White crackhead couple.
Sophia Brauer and Barry Thomas both stated to investigators that they agreed to smoke crack that day with Eleby under the bridge. However, according to the couple, Eleby decided to smoke the crack all by himself and started the fire. Thomas is quoted as saying, "The guy came down there and he moved the chair from one spot to the next. He put the chair on top of the shopping cart. He reached up under the shopping car. I didn't think anything about it, when I looked back I seen [sic] smoke coming out of the chair and I saw it up against that pipe … I panicked. I got scared and I started running. I hollered at her (Brauer), she jumped up and we went out to the highway."
When investigators asked Thomas about Eleby, he stated, "I told them I don't know if he's crazy or not. I said but if he smokes crack he's probably crazy."
Thomas' words are a telling statement coming from a self-confessed crackhead. If smoking crack makes you crazy, then why are police taking the word of a crackhead that Eleby was the one who started the fire? Think about it. Thomas and Brauer stated they were going to smoke crack together with Eleby but he decided he was going to consume it by himself. That means they could have been angry crackheads. You deny a crackhead an expected high and they can get evil. Is it so implausible that they could have started the fire out of revenge for not getting a hit on the crackpipe? On social media, people are saying all sorts of things about Eleby, but we are to assume these homeless, White crackheads are just innocent?
Thomas and Brauer were only charged with misdemeanor criminal trespass and allowed to leave the scene. Because the pair were not arrested at the scene there are no mug shot photos of the homeless, crackhead couple, but Eleby's face is now representative of the Atlanta crackhead.