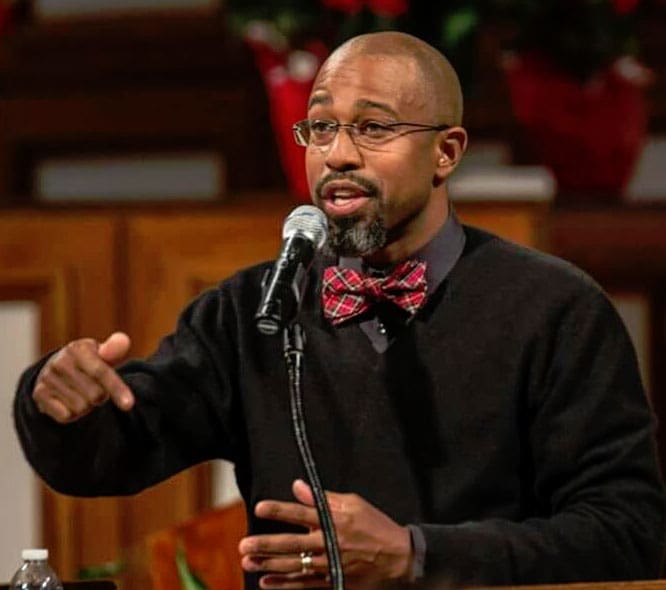 The story of Basil Eleby, the man accused of starting a fire which collapsed a bridge in Atlanta, is becoming a heated topic in the city of Atlanta. Eleby is being portrayed in the mainstream media as being a homeless Black man, high on crack when he allegedly started the fire which caused millions of dollars in damage. But there is another narrative of Eleby that has escaped the notice of current news that is just as important. It is now being revealed by those who know him that he is developmentally disabled.
Marcus Coleman is a well-known activist working on behalf of the neglected in Georgia. His organization Save Ourselves has become active in Eleby's case and responded to an interview request from rolling out.
Please first tell our readers about the mission of Save Ourselves?
Save OurSelves (SOS) is an organization focused on social justice issues, prison reform, mentorship centered on youth athletics, homelessness and senior citizens assistance. Our organization offers community programming like free legal clinics and Operation ShadowTM, a one-day educational internship experience geared towards exposing students to the practical side of civil service, social justice and leadership.
When you first heard about the arrest of Basil Eleby, what was your reaction?
Atlanta has identified its fall guy, plus here's an opportunity for the city to implement further punitive action on the growing homeless population.
Do you feel he is being made a scapegoat?
Absolutely! After all is said and done, this will prove to have statewide, possibly nationwide implications on the storing of flammable materials.
It is being revealed that Eleby has been homeless for many years going back to his youth. In addition, it has now been revealed by someone who knew him that he is mentally disabled. Why should we feel compassion for him?
I do not have enough information concerning the history of treatment as it relates to Mr. Eleby to fully answer that question. What I can say, nationwide, the knowledge, or training if you will, pertaining to mental illness and the criminal justice system needs immediate attention. The same reason we feel compassion for children or the elderly for that matter.
 How is your organization helping Eleby?
 SOS has spearheaded an effort to help Mr. Eleby legally, socially, and medically. We have three credible law firms that are committed to representing Mr. Eleby pro bono. There are a number of organizations who've confirmed their involvement with community initiatives in support of Mr. Eleby. Plus, we've been in contact with a number of mental health services, willing to assist, as well.
How can others help?
Go to MarcusColeman.org for updates, email us at [email protected], or 678-590-2670
What would you like to say in closing?
The I-85 collapse has peeled off the scab of negligent practices by the city of Atlanta. Routinely, hazardous acts used to save a dollar, but ultimately costing millions. The commUNITY is rallying support for Mr. Basil Eleby, but more importantly, WE plan to expose those with the mindset of it's ethical to use the homeless and mentally challenged as political pawn scapegoats.