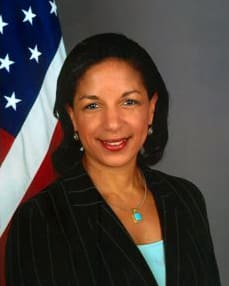 Ambassador Susan E. Rice was President Barack Obama's national security advisor. In that capacity, she oversaw the National Security Council Staff, chairs the Cabinet-level National Security Principals Committee, provided the president's daily national security briefing, and was responsible for the coordination and integration of the administration's foreign policy, intelligence and military efforts.
She's under fire for "unmasking" of Trumpworld names on raw intelligence reports. She was called by Sen. Paul Rand, R-Kentucky, to testify before Congress. FOX News points out, under the U.S. Signals Intelligence Directive (section 18), Rice was authorized to unmask the names of U.S. citizens, as long as it was essential to national security. Under 18 USC 798, it is a felony to knowingly and willfully communicate classified material to an unauthorized person.
Rice's successor Mike Flynn's name was leaked to the press, which constitutes a felony.
In an interview on MSNBC's "Morning Joe," Rand said, "I believe Susan Rice abused this system and she did it for political purposes," Paul said today. "She needs to be brought in and questioned under oath."
The witch hunt against members of the Obama administration doesn't stop there. U.S. Attorney Joseph diGenova tells Bloomberg, "What was produced by the intelligence community at the request of Ms. Rice were detailed spreadsheets of intercepted phone calls with unmasked Trump associates in perfectly legal conversations with individuals."
"They were going to use the intelligence apparatus to attack Trump and I think they did," Sen. Rand continues.
Rice denies leaking information about Trump associates. The New York Times reports Rice said that she sometimes asked for the names of Americans whose identities were redacted in intelligence reports given to her in order to understand the context of what was going on. The purpose, she said, was "to do our jobs," but "absolutely not for any political purpose, to spy, expose, anything."