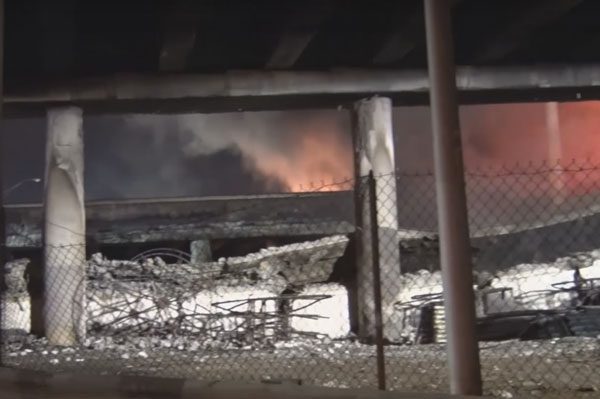 Stay woke! That is the trending theme when it comes to the truth behind the fiery collapse of a portion of I-85 in Atlanta. All eyes conveniently turned to Basil Eleby, a homeless man accused of smoking crack and starting the fire. His arrest came after police statements of two White crack addicts who were also at the scene. The fire spread to abandoned construction materials stored by the Georgia Department of Transportation after a defaulted contract. The spools of fiberglass and plastic conduits had been at the location for at least 5 years and were not combustible but were flammable.
Now a new discovery has many people wondering just what is going on with the underpasses of the city of Atlanta. Apparently, someone built a professional, and unauthorized skateboard park just yards away from where the fire started. The park was discovered by local media. Construction materials and refuse left behind included old mattresses. The full extent of the materials discovered has not been revealed but some of the items were, in fact, flammable. The skateboard ramps and slopes were not some hastily built structures, in fact, it took a considerable amount of time to build and to allow the concrete used to harden.
Since its discovery this past week, GDOT announced it was going to demolish the unauthorized skateboard park. This has raised many questions, among them:
Who was responsible for the construction?
Who was responsible for inspection of these storage sites?
Why was the material, paid for by taxpayers, never resold or auctioned off by GDOT?
Basil Eleby was not the only person who had access to this area. Someone with money and time saw a neglected and unsecured space and left behind materials that possibly could have been a factor in the fire and collapse of the highway section. It is highly doubtful that the citizens of Atlanta will find those responsible for the skateboarding park. But one thing is apparent; through its willful negligence of the security of the underpass, GDOT holds a significant portion of the blame.