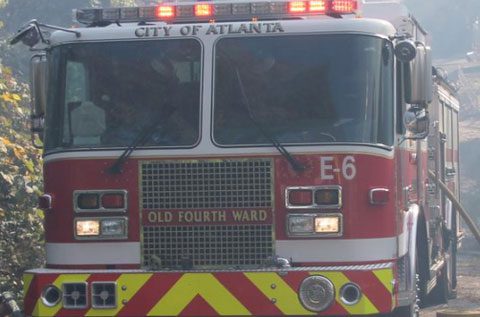 A little more than two weeks after a fire took out a span of I-85  in Atlanta, another major fire has disrupted travel in the city. This time the fire was located under a railway bridge near an industrial area of the trendy Buckhead section of the city.
The fire was reported early this morning as Atlanta police notified the rail carrier CSX of the situation. Atlanta is a hub of intermodal transport where freight is loaded and offloaded to trucks and railcars for not only the southeast region of the United States but also globally. Many shipping containers pass through the city on their way to port cities like Miami or Savannah, Georgia.
While the average commuter may not see a significant impact on daily travel, the fire has caused a shipping delay that has yet to be evaluated. The cause of the fire has not yet been determined but some have called it massive. A CSX spokesperson stated, "We are holding train traffic until a bridge inspector gives the OK. They're on the way there right now."
The fire is located near Cheshire Bridge Road and Buford Highway, a crucial transport area that is not far from the fire that was started on March 30, allegedly by Basil Eleby, 39, a homeless, mentally ill Black man who has been indicted by a grand jury for felony arson and criminal damage to property. However, many feel that Eleby is being used as a scapegoat to shift blame from the Atlanta city government and the Georgia Department of Transportation.
Since the fire, it has been revealed that GDOT stored a massive amount of fiber optic cable and plastic at the site for at least five years. The underpass was poorly secured and was a haven for the homeless seeking shelter as well as a possible dumping ground for trash. Shockingly, it was revealed that individuals had constructed an unauthorized and illegal skateboard park at another underpass not far from the I-85 bridge collapse. When state officials were notified, they discovered a leftover pallet of cement and other construction materials at the site. In addition, there was an area filled with old tires, furniture, and other rubbish. It is apparent that neither the city nor GDOT has been monitoring these areas as a matter of public safety. This current fire has some asking if there may be an arsonist on the loose or if the fires are connected in some way. Traffic since the March 30 fire has exposed the vulnerable transportation infrastructure of Atlanta. Earlier this week, the morning rush hour commute was stalled because of a diesel fuel spill from a truck on I-285, another critical artery for Atlanta metro traffic.