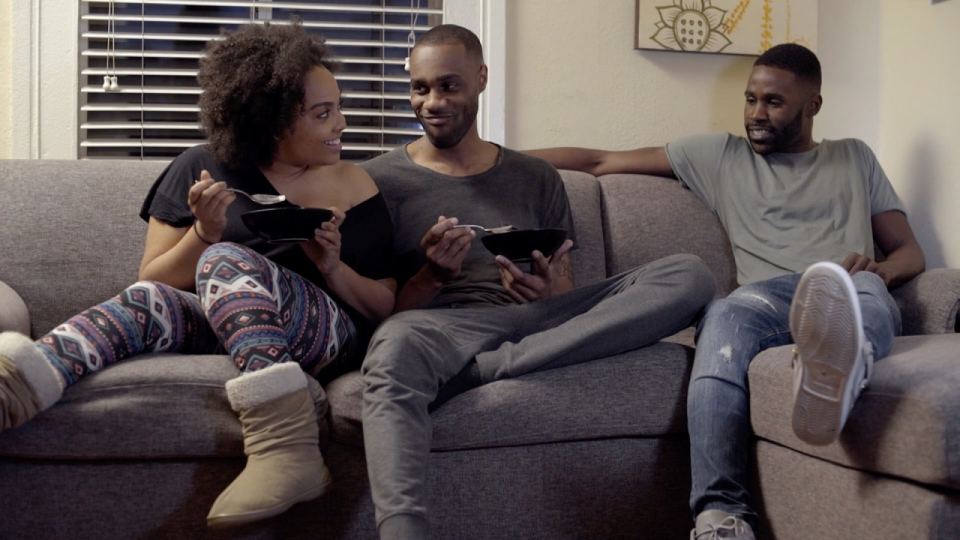 If you need a good TV fix, here's one to add to your list: "GIANTS" web series is everything you didn't know you wanted. Gone are the days when everyone on screen lived picture perfect lives and had everything figured out. James Bland, the writer and creator of "Giants," keeps it real about how millennials are navigating the ups and downs of life.
The show stars three friends, Malachi (James Bland), Journee ( Vanessa Baden Kelly) and Ade (Sean Samuels) who each battle their own inner "giants." Tinder dates, late rent, and odd jobs are only a small aspect of the show, which highlights topics often regarded as taboo, including male sexual identity and the realities of mental health challenges like depression. With relatable characters and realistic situations, watching "Giants" is like looking in the mirror for a lot of millennials and the show truly shows that it's OK to not have it all together.
"Empire" star Jussie Smollett serves as executive producer of "GIANTS," the latest project from writer, director and actor Bland. The first season of the series is currently streaming on Issa Rae's (HBO's "Insecure") YouTube Channel via Color CreativeTV.
A conversation with James Bland gave more insight about the inception of "GIANTS," its purpose and where the show is heading.
Can you tell us about your background and film journey?
My film journey started at my alma mater, FAMU. My first film, Dreaming In Color, ignited my passion for film, that short was sent to mega producer Will Packer, who ended up offering me an internship, and that's how it all started. I moved to LA and worked my way up.
What is your voice and how does it separate you from others in the industry?
My voice is what separates me from others in the industry. I am the queer, Black, Southern, came from a religious background, educated male living the millennial experience.
Where did the "GIANTS" story come from?
I was robbed when I first moved to LA and it really shook me to the point of me questioning why I was here, luckily a conversation with my mother turned it all around. My mother compared my story to the David and Goliath Bible story and that put things into perspective for me, she let me know that I had to face my giants, and that was the seed that birthed "GIANTS."
Also, I believe in writing from real experiences, so a lot of the stories in "GIANTS" were pulled from things that really happened to me or my friends.
What is your goal for the show?
My intent for Giants is to inspire people to live out loud, walk in their truth and acknowledge their giants so that they can overcome them. Overall, I feel my work is a ministry to men, it's here to heal.
What can viewers expect from season two?
Season two will be a continuation of the stories laid in season one, we pick up right where we left off with each character. We also see the characters finally catch some breaks as well as they begin to walk into them full selves.  One of the coolest parts about season two is that we get to dig into their past, so the audience can see why they are the way they are and how their relationships began.
Do you have any advice for aspiring filmmakers?
My best advice for aspiring filmmakers it to just do it. If you have a desire to start, you must start — even if it's just you and your iPhone, you have to make it work and the more you do that, the better you'll get. Also, you must commit yourself to your craft, always be a student, always be ready to learn something new; your work will reflect your growth. And finally, you must be tenacious. "GIANTS" is my fifth series, I've had projects before this that no one watched, but the key is to keep going.
Is there anything else you'd like to add?
I'd like to thank everyone who supported season one and let people know that we are fundraising for season two.
In preparation for season two, and to ensure consistent high quality, the team is currently raising funds on mega platform Indiegogo. Head on over to season2giants.com for more information and to donate, the campaign end on May 1, 2017.
Facebook: Facebook.com/giantstheseries
Twitter & Instagram: Giantstheseries
YouTube: Youtube.com/Issarae
Happy bingeing! Leave your comments about the show below.