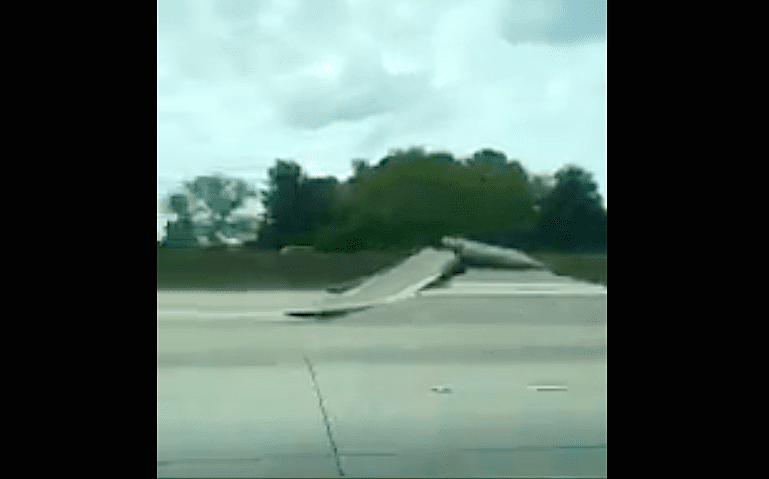 In less than 30 days, another major interstate highway has collapsed in Atlanta. During a busy traffic period in Atlanta, a section of Interstate 20 West buckled. The incident occurred near Gresham Road which is a few miles west of downtown Atlanta.
According to reports by Atlanta Journal-Constitution, the collapse occurred due to an underground gas leak. Currently, all lanes are closed on I-20 West creating another traffic conundrum in a city that has suffered from traffic issues for decades.
Several weeks ago, a massive fire on I-85 North caused a portion on the bridge to collapse. Following the fire, Basil Elebry, an alleged drug addict, was arrested for causing the fire after reportedly smoking crack. But many people in the Atlanta area believed that Elebry was being used as a scapegoat.
For decades, Atlanta has suffered from infrastructure problems due to poor planning by city and state officials. According to the Global Traffic Scorecard, Atlanta ranked eighth in the world for traffic congestion. And although the state recently passed a $750 million budget to improve roads and bridges, construction has yet to accommodate the millions of drivers who drive Georgia roads each day.
Furthermore, racial propaganda has kept MARTA out of the surrounding counties. As a result, only 3 percent of residents in the metro area use public transit.
Without a focused plan of action, similar incidents could take place a city that has witnessed two major highway issues within a month.
First I-85 and now I-20? Yeah yall just need to gon head and close Atlanta for repairs before yall blame another crackhead.

— King Kanois ? (@King_Kanois) April 17, 2017
After 85, 285, 75 problems and now I-20 buckling, I'm not touching the elevated roadways when they're finished. #ATLtraffic

— Eric Johnson (@therealLJ1) April 17, 2017
First the falcons, then I-85, now I-20 is crumbling, you can't spell Atlanta without a L ?

— DESERT OASIS (@DESERTOASIS97) April 17, 2017
Now I20 is gone?! What is happening!?! That's supposed to be my apocalypse escape route. I clearly need a new plan NOW

— B.E.Z. (@onlyBEZ) April 17, 2017
Ok….first 85, now I-20. Is Atlanta getting boxed in so that the walking dead can come to life or nah?

— A G. (@SchmexyDork) April 17, 2017