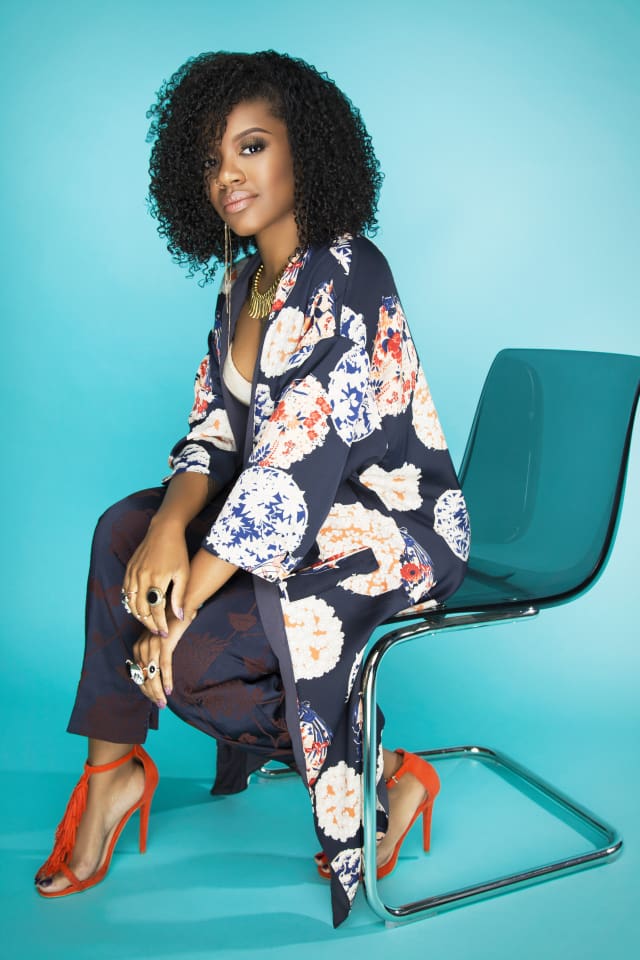 Nakia Stephens is an independent screenwriter and founder of Damn Write Originals. Stephens is an Atlanta native and graduate of Savannah State University's mass communications program where her concentration was radio and television broadcasting. After receiving her degree, Stephens went on to work and study screenwriting in Los Angeles, where she helped contribute toward productions with BET, Issa Rae Productions, Funny or Die, NAACP Image Awards, and other smaller productions. As a travel and culture enthusiast and an avid champion for women and people of color, Stephens is devoted to telling authentic and purposeful stories.
Stephens is the mastermind behind the stories told in every Damn Write Original Production. She is known for her bold independent works including her first feature film Muse, her award-winning and BET sponsored short film Suga Water, and highly acclaimed award-winning dramedy series "Cream x Coffee." She believes in the magic of storytelling and always creates art with a purpose greater than self.
Currently, you can catch Stephens working in Atlanta on productions such as "Star" and "24 Legacy," but mostly you'll find her grinding it out as a full-time screenwriter, developing refreshing new content.
The screenwriter penciled rolling out in for a walk through her journey.
What is your favorite affirmation and how has it been a factor in your life?
"I get to live and create another day…. And that's a beautiful thing." Saying this on and off my sets helps spread a positive vibe of gratitude to be a creator. This has helped shape my intention and my outlook on any day that I have another chance to live and create.
Beyond the scope of your work, what causes do you support and/or participate in?
Other than screenwriting/filmmaking at Damn Write Originals, I serve as Creative Director for a non-profit organization called Around The Way Girl, LLC. As well as serve in the Metro-Atlanta and East Point/College Park community any way that I can.
How does competition impact your success?
As a filmmaker, you are often tempted to compete with others, but as you grow in your own light you quickly learn that your art is not to be rushed or forced or compared. Art takes time and it deserves to be made from a place of passion and authenticity, not a place of competition. As for myself, I only compete with me, I try to outdo myself and I challenge myself to improve with each project or production.
How has being empathetic and listening to others helped shape your success?
I've grown to be very empathetic. I try to understand people and the way they think. I feel like my ability to empathize has definitely helped me to communicate and operate alongside others much better. I also believe it helps me with my writing because it allows me to be non-judgmental with my characters as I create different personalities and circumstances.
How has being fearless factored into your success?
Being Fearless has allowed me to take more risks when it comes to filmmaking and expressing myself through art. There is so much freedom that comes with letting go of your fears and holding tight to your dreams.
How has goal-setting factored into you being able to attain success?
Goal setting has played a major part in my success. If you have no goals and you don't know where you want to then you'll just be wandering aimlessly in the dark. I love to set goals and set my intentions for my career as well as my personal life. I'm addicted to my passion planner which allows me to track my goal-setting progress, it's a must have.
Finish the sentences:
Expressing gratitude to those around me…
… is important to me because I need those who support me to understand how much they are truly watering my spirit and helping me to grow. I always try to stay gracious.
Learning to let go of trying to be perfect has helped me …
….to create from a more authentic space. When you relinquish all need "know it all" or "Get it right," you can focus on strictly creating without the pressure of trying to aim for perfection!
What motivates you?
I am motivated by the very possibility that I can do, create, and have anything I want. I'm motivated by the possibility that my work could inspire the world.