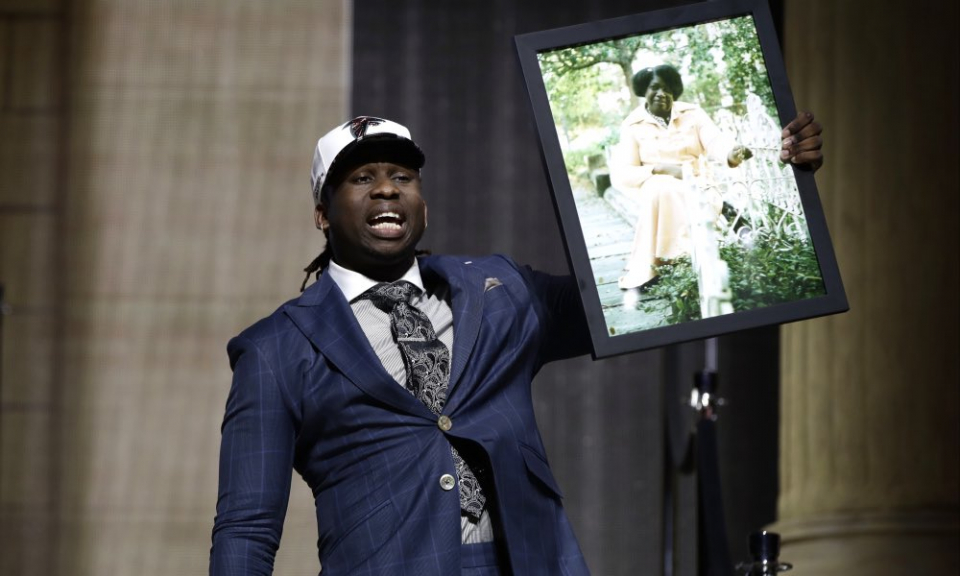 Day one of the 2017 NFL Draft is in the books and the day came up with no shortage of headlines. Held outdoors for the first time in history, the event was held on the steps of Philadelphia's Art Museum, the same steps that Rocky Balboa jogged up during his famous training montage in the film Rocky. It was open to the public. NFL Commissioner Roger Goodell walked out to thousands of boos from the crowd before every selection he announced.
Here are some highlights from the night.
Biggest surprise: The Chicago Bears traded up from the third overall pick to the No. 2 spot to select University of North Carolina quarterback Mitchell Trubusky. Many draft experts regarded Trubusky as the top quarterback prospect in this year's draft. However, the overall consensus from draft scouts and experts was that this year's quarterback core isn't as strong as past drafts. The Bears gave the 49ers the third, 67th, and 111th picks to take a quarterback who only won two games against ranked opponents in college.
Most memorable moment: UCLA defensive end Takkarist McKinley went to the Atlanta Falcons at No. 26 after the Super Bowl runner-ups traded up a couple of positions. Many mock drafts projected the Pac-12 pass rusher to go in the top 16 picks of the night, but he's dealt with shoulder issues in the past. When Commissioner Goodell called his name, McKinley rushed to the stage while carrying a picture frame of his late grandmother.
"I made a promise to her," McKinley said of his grandmother, during an interview with NFL Network. "I was going to go D-I. I was going to get out of Richmond. I was going to get out of Oakland. I was going to live my dreams to play in the NFL. And I'm here, man. I completed the promise. That means every f—ing thing to me. Excuse my language, man. Fine me later. This means everything to me."
McKinley said he finished making his career promises to his grandmother about 30 seconds before she died.
An honorable mention for the most memorable moment goes to Utah offensive tackle Garrett Bolles. Bolles went to the Denver Broncos with the 20th pick and he brought his infant son on stage with him, holding him up to the audience in a pose similar to the iconic one in Roots.
Notable picks:
Oakland Raiders- Ohio State cornerback Gareon Conley
Cleveland Browns- Texas A&M defensive end Myles Garrett/Michigan linebacker Jabrill Peppers
Jacksonville Jaguars- LSU running back Leonard Fornette
Houston Texans- Clemson quarterback Deshaun Watson
New York Giants- Ole Miss tight end Evan Engram
Carolina Panthers- Stanford running back Christian McCaffrey
San Francisco 49ers- Alabama linebacker Reuben Foster
Pittsburgh Steelers- Wisconsin linebacker T.J. Watt
Tennessee Titans- USC(California) cornerback Adoree' Jackson
Tampa Bay Buccaneers- Alabama tight end O.J. Howard
Dallas Cowboys- Michigan defensive end Taco Charlton
Still on the board:
Florida State running back Dalvin Cook
University of Tennessee quarterback Joshua Dobbs
Notre Dame quarterback DeShone Kizer
University of Miami quarterback Brad Kaaya
Alabama offensive tackle Cam Robinson