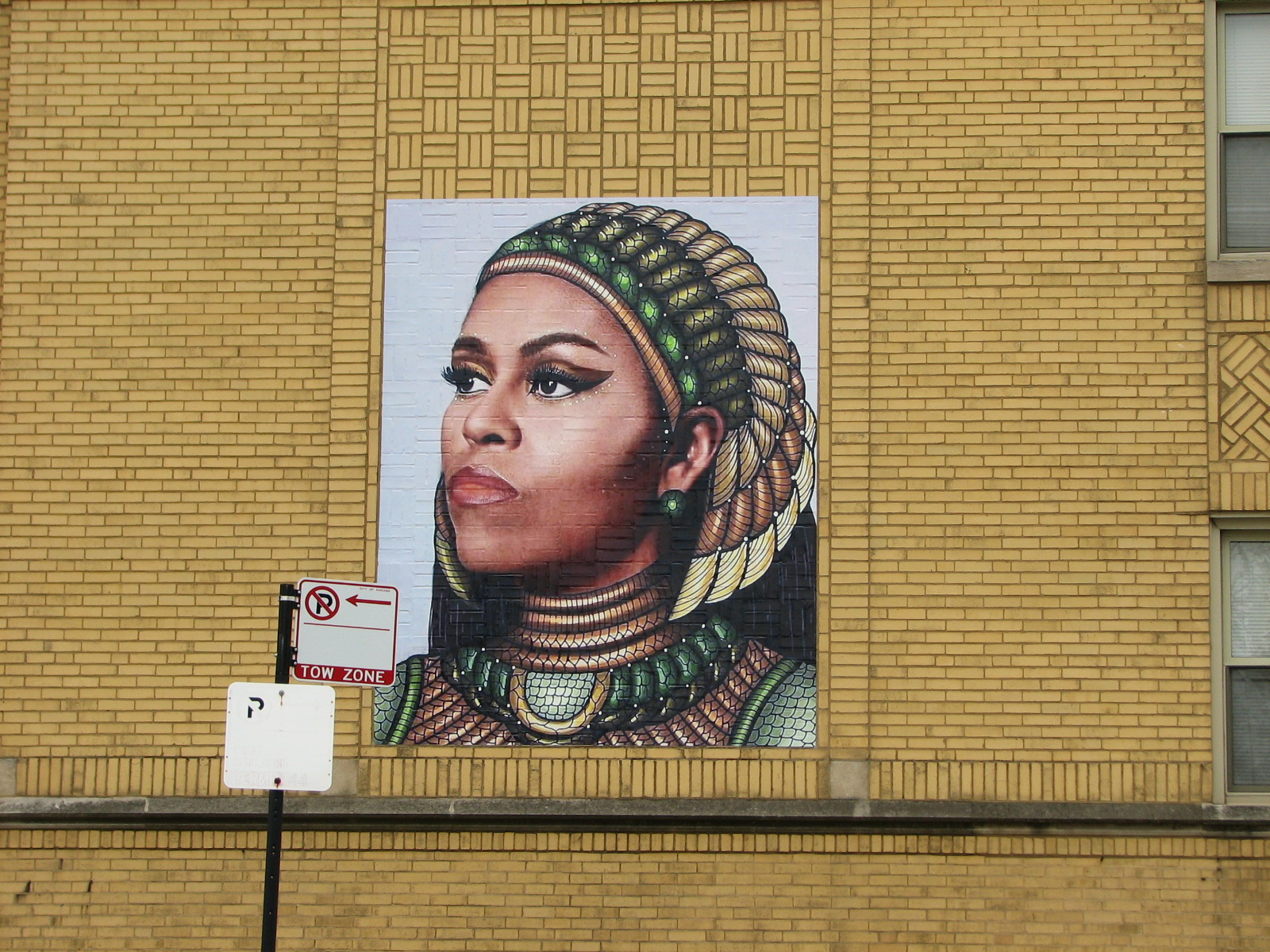 Since the mural of former first lady Michelle Obama as an Egyptian queen went up last week at the southeast corner of 74th Street and Chappel Avenue, what started out as something positive for the South Shore community has had unexpected consequences. Urban planner and artist Chris Devins hit a proverbial hornet's nest when he unknowingly used the work of artist Gelila Mesfin without her consent to create his mural for the elementary school Obama attended. Rolling out asked him about his take on the matter.
When you decided to produce the mural, what was the original mission or intent?
First off, let me start off by saying this is a time for learning and self-reflection, not justification. The original intent was to create a mural that would serve as inspiration for the young ladies on Chicago's south side and to implore them to be all they can be. To me, the root of my decisions and thus the controversy lies in the fact that I consider what I do to be a creative place making a dual practice occupation that combines art and urban planning. I am not really focusing on the image production as much as I am interested in using a "found" image that re-affirms the Identity of the community. The image is not the sole focus, the area is, where the image is placed, how people interact with the image, what the image tells the community about itself, those are the important things for me.
In my work at the A.Philip Randolph Pullman Porter Museum, the King Cole mural, the Louis Armstrong mural, all of these use public domain "found" images that tell a story about the community. I have more than one idea in production generally and so must make quick decisions. I considered the original image I had used in the Nov 2016 GoFundMe campaign to be just a rudimentary mock-up. I knew that I wanted to depict Mrs. Obama as a queen and I noticed a resemblance between her and Queen Tiye of Egypt so I began thinking and looking for inspiration on those lines. I played with various versions of Queen Tiye using morphing programs to morph the face of Queen Tiye and Mrs. Obama. As I got closer to the date of executing the mural, I stumbled across an unattributed image of Mrs. Obama dressed in what appeared to be feathers on Pinterest. I loved the image and felt that it was even better than what I was working on. That was about 12 days ago. I tried hard to source the image back to someone but there was no information.
Do you understand how your actions could be considered plagiarism? Do you attribute it to not having enough information at the time to credit Gelila Mesfin?
I understand that if I was working in my capacity as an artist, how it could be considered plagiarizing if I claimed to be the artist, but I was not. As you can see, my claims that I was working on the concept of her as Egyptian were true and preceded Ms. Mesfin's image. My original idea came when I noticed Mrs. Obama looked like Queen Tiye of Egypt. I had morphed the face of Mrs. Obama into the statue. That's when the unattributed image popped up on Pinterest. It felt softer, more feminine. I searched and searched and could not find the source. I proceeded and figuring the artist would emerge and I would just pay them a licensing fee. I didn't know it would be so soon and that they would be so upset.
I think this would be considered a learning experience for anyone. What have you learned from this entire experience?
I should have proceeded much more cautiously when dealing with a project of this visibility, but that is hindsight. I thought it was a small, little off the beaten path site, that was just for the kids. I will be much more careful with my attributions from here on out.
For more information about Chris Devins and his work visit his website at www.chrisdevinscreative.com