Dana Jackson mourns both her sons this Mother's Day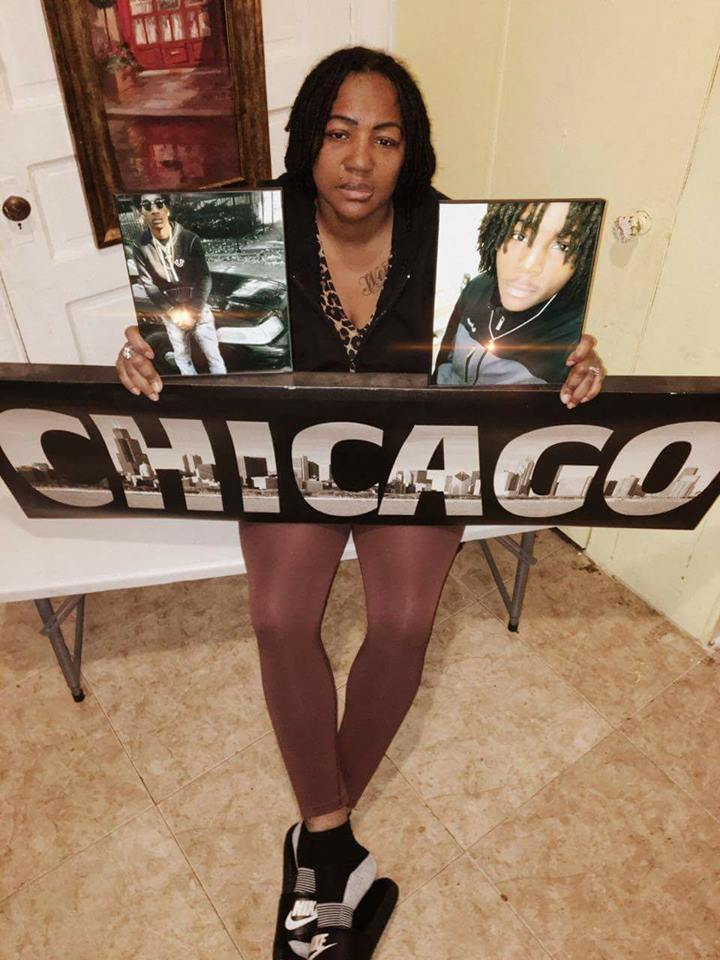 When we sat down with Dana Jackson at her home, it was hard to ignore the beautiful artwork she had displayed around her house. It was also hard to ignore the sense of loss felt from the moment you cross the threshold. Jackson is a mother of five who worked hard to provide for her children and give them a sense of peace. She made her way back to her hometown of Chicago from Champaign, Illinois to look after her mother and create a different circumstance for her family. She was worried about her two youngest sons traveling on the bus to visit her at work, so she found some place closer, some place she assumed was safer. Her sons Dillon Malik Jackson, 20, and Raheem Sean Jackson, 19, were very close and shared a love for professional wrestling. They went to visit their mom at Nadia Fish and Chicken restaurant. Dillon ordered his favorite sandwich "The Gym Shoe" and Raheem ordered a Philly cheesesteak. Once they got their food and were able to get some money from their mom, they left the store. That was the last time Jackson saw her sons alive.
Their lives were taken by a gunman who chased two individuals into the restaurant where he shot them and then he began shooting outside where Dillon and Raheem were killed. The shooting was the result of revenge from a previous shooting that week. Dillion and Raheem became casualties of that revenge.
We spoke with Jackson about her feelings during this time and how Mother's Day will be different after such a horrible tragedy.
Tell us about your children. What are your best memories?
Dillion gets the best big brother award. He went with his little brother. He was always a protector over his little brother. He was a great big brother. Raheem was fun; he was the comedian and wanted to be the next Lil Wayne. They both loved wrestling. Raheem loved John Cena and Dillon loved Randy Orton. Dillon just got his new Xbox and Raheem just got his PS4. I just set up the wifi for them. It was a typical sibling rivalry. I just moved into this house and I did this to make it safer for them. I found a place that was right around the corner from my job. I did this to make them safer. This is what hurts me so bad. Dillon and Raheem came up to my job on March 30 to get some money. Dillion asked me for $15; he said, "I'm gonna get me some food and some snacks and I'm back in the crib." Raheem said, "Well, Ma, if you give him $15 can I get $10?" I started fussing at them. I let them know I don't eat paper and out comes money. I had $22 in my wallet. That's all I had. Raheem came up to the window first and I gave him the $10. I gave Dillon the $12 and he was cool with the $12 and he was like, "Aight, bro, come on we gone." Raheem went out the door first and Dillon was right behind him and that was the last time I saw my boys alive.
I invested so much in keeping them OK and out of the streets. For me, to get this kind of outcome makes me feel like all the work I did was for nothing.
How does it feel waking up everyday knowing they are no longer with you?
It feels terrible. I am in a bad space right now. I have been having this recurring dream with somebody holding a gun and I'm screaming, "No! No!" Then I wake up and realize it's a dream and reality sets in that my kids are not here anymore. I wake up in really, really bad spaces. This morning, I woke up and spazzed a little bit. My heart was in my throat. I couldn't breathe. I keep bottles of water by the side of the bed so I can drink right away. I do it so I can catch my breath and get a grip. This is real and there is nothing I can change about it. I am truly a broken woman behind this. My spirit is hindered but I do know I have to move forward for the other kids in my life. Dillion and Raheem were my babies.
How has the sisterhood helped you?
Gwen is great; she has been there with me through it all. She has supported me since day one. I've called her at one and two in the morning because I'm angry and sad. I'm so hurt that I want revenge and justice. She talks to me and brings me back to light. I have to make my tragedy a victory and only I can do it. That's something that I'm working on now.
If you had to describe your pain, how would you do it?
I feel cheated and robbed of my children's life.
How does this feel with Mother's Day coming up?
With the support of the sisterhood and my family, we are going to go on and have Mother's Day. But, here is something, my birthday [was] March 19, my kids were killed on March 30. I will never have a happy birthday again. When March hits, it will be about my sons' memorial now.
What does life mean for you now?
I am a completely broken woman now. I don't have love anymore. I need everybody's support right now; this is super hard …