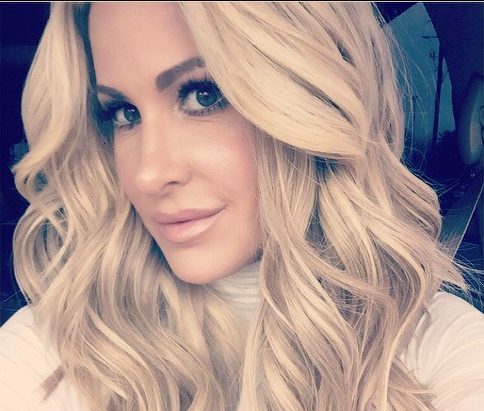 Kim Zolciak-Biermann fires back at "Real Housewives of Atlanta" cast mate Kenya Moore after Moore shaded the reality star during a radio interview.
Earlier this week, Moore dropped by Power 105.1's The Breakfast Club, where she weighed in on Zolciak-Biermann's possible return to the Bravo series.
"Yeah, Kim is coming back," Moore quipped. "Kim needs a check, so Kim will be back."
"What about 'Tardy for the Party'? Wasn't that doing well?" a host asked before Moore answered, "The checks were tardy, so she's all here."
Not to our surprise, it didn't take long for Zolciak-Biermann to catch wind of the shade. On Saturday, May 13, the 38-year-old took to Instagram where she posted a video clip from the interview along with a fiery response, suggesting Moore is purposefully stirring up drama for RHOA's upcoming tenth season.
https://www.instagram.com/p/BUCkPW3BmWf/?taken-by=kimzolciakbiermann
"Hmm this s— is funny!!" the Bravo star wrote alongside a video clip of Moore's interview. "6 season in on Don't Be Tardy, multi million dollar skincare line in less then 6 months @kashmerekollections meanwhile you sell your hair care products out of the trunk of your car and paying Sally's beauty supply to do an appearances there AND you are spending what you do have on your 3rd paid boyfriend," wrote Zolciak-Biermann.
"Sweetie don't try and come for me so you can have a story line for next season. Thx to all my supportive followers for keepin me in the loop! #Repost @realhousewivesatlanta #KimAndNene #Original," she concluded.
Previously reported, the mother of six abruptly left the show during the fifth season, only to return to the hit show's season nine finale in April, where she attended Sheree Whitfield's Chateau Sheree housewarming party — and quickly butted heads with Moore.
What are your thoughts on the feud? Was Moore's interview a blatant attempt to stir up drama for ratings? Sound off in the comment section below.