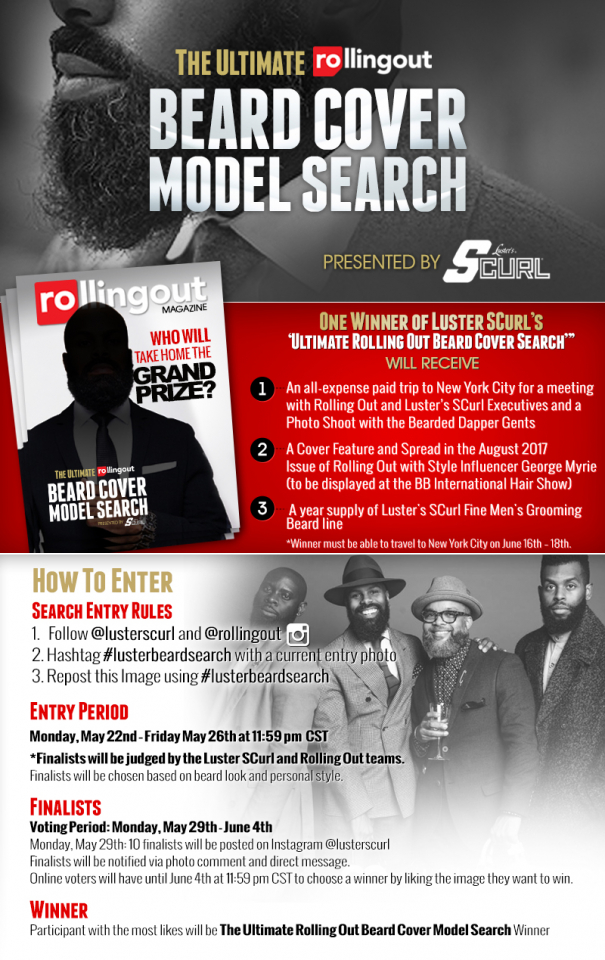 Luster SCurl presents the "Ultimate rolling out Beard Cover Model Search."
The winner of Luster SCurl's "Ultimate rolling out Beard Cover Model Search" will receive:
1. An all-expense paid trip to New York City for a meeting with rolling out and Luster's SCurl executives
and a photo shoot with the Bearded Dapper Gents
2. A cover feature and spread in the August 2017 issue of rolling out with style influencer George
Myrie.
3. A year's supply of Luster's Fine Grooming Beard Product.
Search Entry Rules:
1. Follow @lusterscurl and @rollingout on Instagram.
2. Hashtag #lusterbeardsearch with a current entry photo.
3. Repost this image using #lusterbeardsearch
Entry Period:
Monday, May 22 through Friday, May 26 at 11:59 p.m. CST
*Finalists will be judged by the Luster SCurl and rolling out teams.
Finalists will be chosen based on beard look and personal style.
Finalists:
Voting Period: Monday, May 29 through June 4
Monday, May 29:10 finalists will be posted on Instagram @lusterscurl.
Finalists will be notified via photo comment and direct message.
Online voters will have until June 4 at 11:59 pm CST to choose a winner by liking the image they want to win.
Winner:
The participant with the most likes will be The Ultimate rolling out Beard Cover Model Search winner.