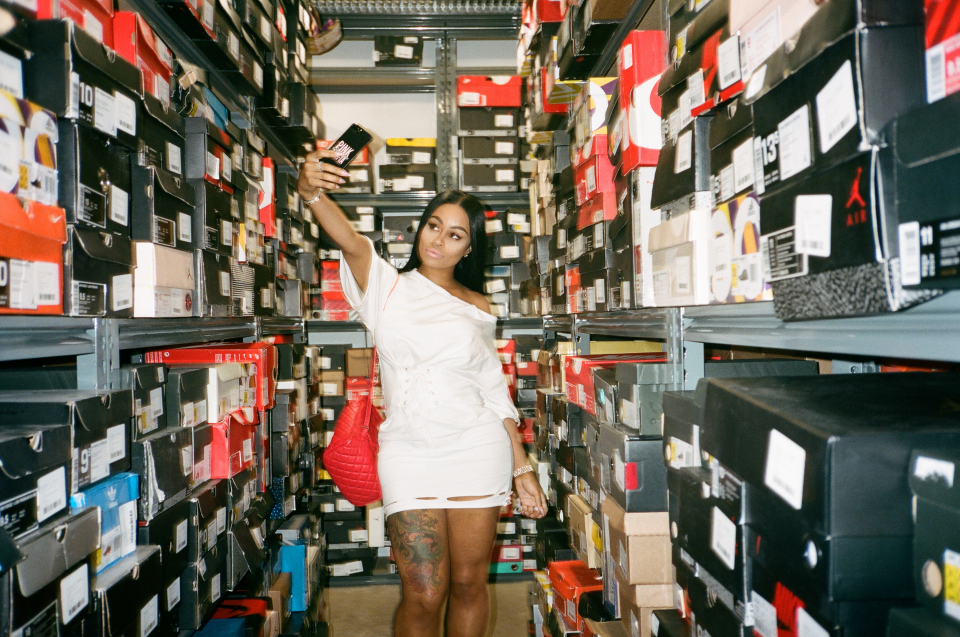 Blac Chyna is the latest guest on Complex's "Sneaker Shopping with Joe La Puma." In a rare on-camera interview, Chyna visited Flight Club in Los Angeles to talk about her style growing up in Washington, D.C. and explained how her daughter Dream gets Yeezy's early.
In the episode, Chyna reminisces about growing up in D.C. and wearing a specific pair of New Balance sneakers, and goes on to talk about Nike Foamposites and Nike Boots, both of which are heavily popular in the area. She then goes on to talk about a time when sneakerheads left negative comments over an outfit/sneaker combo she wore four years ago. In the end, she spends over $1K on two pairs of Air Jordans and one pair of Foamposites.
Here are the highlights.
On her son King's style:
"He gets the style from his dad [Tyga], for sure. You have to keep the kids fresh, you have to. King is into cars, that's his thing. He can tell you anything about a car. He can drive really well, too – Power Wheels."
On getting Yeezy's for her daughter Dream and if Kanye sends them:
"Nah, no no. Rob [Kardashian] actually gets everything for us. We've got to support."
On friendship with Amber Rose:
"We just want to make it and be positive."
On growing up in D.C.:
"[Foamposites] were super expensive, we knew that if you wore Foamposites you had to get a check. In D.C., we mostly wore [New Balance] 991s, 992s. If you wore Nike Boots, you were super fly."
On getting negative comments about mismatching Adidas clothes with Jordan shoes:
"When Instagram first got popping', I wore an Adidas tracksuit with "Grape" Vs. On the comments they said, 'You can't wear Adidas with Jordan!' I was like, 'Damn!' Now it's cool, it's fine, but back then it wasn't."