What a whirlwind. Only two weeks into season 13 of "The Bachelorette" and the franchise's first Black lead, Rachel Lindsay, is facing yet another controversy.
As previously reported, earlier this year, Lindsay, a 31-year-old lawyer hailing from Texas, made history when it was announced that she'd be stepping up to the plate as ABC's first-ever Black "Bachelorette."
"I'm happy to represent myself as a Black woman in front of America and I'm happy for America to rally behind me and see what it's like for me to be on this journey to find love," Lindsay told People at the time. "Honestly, it's not going to be that different from any other season of 'The Bachelorette.'"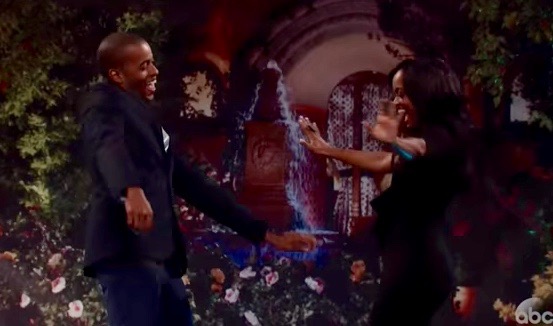 She added, "I'm obviously nervous and excited to take on this opportunity but I don't feel added pressure being the first black Bachelorette, because to me I'm just a black woman trying to find love. Yes, I'm doing on this huge stage, but again my journey of love isn't any different just because my skin color is."
Though Lindsay crossed paths with a handful of suitors during the "After the Final Rose" special, which followed the finale of Nick Viall's "The Bachelor," it wasn't until much later that she met all 31 suitors vying for her heart.
Not to our surprise, the season started off with a bang. Contestant Bryce Powers drew criticism for making a seemingly transphobic comment in his official bio. Then, the alleged girlfriend of another contender, DeMario Jackson, confronted Lindsay, claiming he had ditched her for the show, leaving Lindsay no choice but to cut him from the running. Now, another contestant is learning the hard way that what's said and done on the internet is never forgotten.
Hooooooo boy! @BacheloretteABC @TheRachLindsay #TheBachelorette pic.twitter.com/cGMy6hFJh3

— Erika (@emesola) May 31, 2017
In a series of disturbing tweets posted from 2015 and 2016, 31-year-old singer-songwriter Lee Garrett exposed his true colors when he shared a story link titled "thousands sign petition to recognize #BlackLivesMatter as terrorist group after Dallas."
Other tweets went a little something like this: "The tweets included lines like, "What's the difference between the NAACP and the KKK? Wait for it…..One has the sense of shame to cover their racist a– faces"; "I don't hate Muslims, I do hate Islam. I just mindf–ked a few liberals for standing for something while making reasonable sense" and "Guys… When is the last time YOU actually saw a pretty feminist? There is a reason for this."
Needless to say, fans of the show are not feeling it and pushing for his immediate release from the hit reality show:
Gotta love how @BacheloretteABC casts Lee…wonder how @TheRachLindsay feels about it? #TheBachelorette pic.twitter.com/RX6lkGpgyB

— Erika (@emesola) May 31, 2017
Meanwhile, longtime host Chris Harrison revealed that the show wasn't aware of the offensive tweets. He tweeted, "For those asking, no, of course, we didn't know about the offensive tweets from Lee's account. None of us were aware of them. Very unfortunate."
Lindsay has not yet responded.