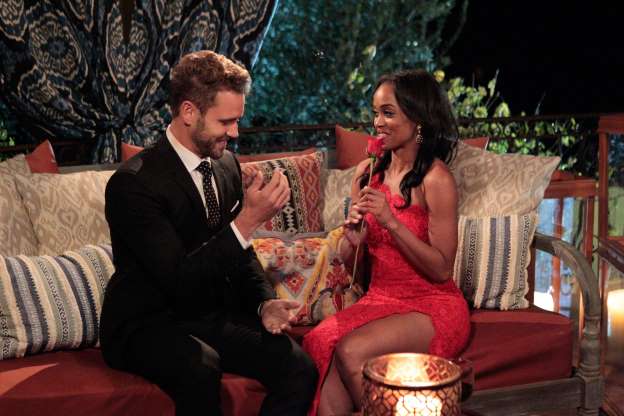 Though it's true, news of ABC's first-ever Black "Bachlorette" sent social media into a tizzy. The franchise's next leading lady, Rachel Lindsay wants fans to know that her journey to finding love isn't any different because she is a woman of color.
"I'm happy to represent myself as a Black woman in front of America and I'm happy for America to rally behind me and see what it's like for me to be on this journey to find love," Lindsay, a 31-year-old lawyer hailing from Texas, recently told People. "Honestly, it's not going to be that different from any other season of 'The Bachelorette."'
She added, "I'm obviously nervous and excited to take on this opportunity but I don't feel added pressure being the first black Bachelorette, because to me I'm just a black woman trying to find love. Yes, I'm doing on this huge stage, but again my journey of love isn't any different just because my skin color is."
As fans know far too well, the announcement, which was made during Monday night's "Jimmy Kimmel Live," came as a shock, as Lindsay, who nabbed season 21's First Impression Rose, had not yet been cut by "The Bachelor's" Nick Viall, who on that same night was conflicted over who to take home to mama — as "home dates" lurked around the corner.
As for the significance, Lindsay's feature is pretty major. Bachelor nation has faced repeated allegations of racial discrimination over selecting only White suitors — with the exception of American-born, Venezuelan Juan Pablo Galavis — throughout the course of 21 seasons of "The Bachelor" and 12 seasons of "The Bachelorette." Viewers were told that change is inevitable. "I would very much like to see some changes there," ABC Entertainment President Channing Dungey told reporters during the network's Television Critics Association presentation in August.
"I think one of the biggest changes that we need to do is we need to increase the pool of diverse candidates in the beginning because part of what ends up happening as we go along is that there just aren't as many candidates to ultimately end up in the role of the next Bachelor or Bachelorette so that is something we really want to put some effort and energy towards," she added.
Judging by the overall response, it's safe to say that many didn't see it coming, quite so soon. Needless to say, the history-making decision is definitely a game-changer. What are your thoughts on ABC's historic move? How do you think it will impact the popularity of the reality series? Let us know your thoughts in the comment section below.