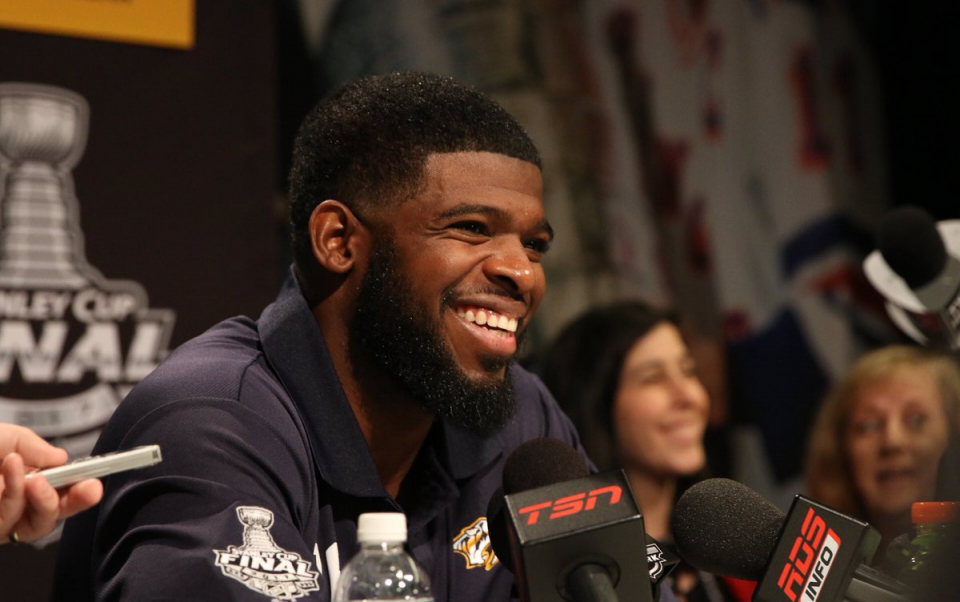 Nashville Predators defenseman P.K. Subban is one of the greatest Black players in NHL history. One year after being traded to Nashville, Subban has already led the Predators to the Stanley Cup Final. Since entering the league Subban has received much criticism — from other players, management, and fans — about his demeanor on the ice. Subban said he refuses to change because he doesn't feel the need to hide his joy fulfilling his dream of playing in the NHL. Since he comes to games decked out in extravagant suits and plays passionately, he has often been labeled as a "cocky" player. As one of the league's best defensemen who has made questionable plays in the past, he is also labeled a "dirty" player.
Pittsburgh Penguins centerman Sidney Crosby is arguably the best player in the NHL. He has also has been accused of being a dirty player in his career, but not nearly as much as Subban. After Game 3 of the Stanley Cup Final, Subban said Crosby insulted him on the ice.
"Yeah, he made that up. I didn't say that," Crosby said in response to Subban's claim. "He likes the attention and things like that…If he wants to make things up, what can I do?"
The trash talk between the two has continued throughout the series, and in Game 5 both players were tangled up behind Pittsburgh's goalpost. Crosby then slammed Subban's head into the ice about eight times.
"He was doing some kind of UFC move on my foot. I don't know what he was trying to do. I was trying to get out of there. He had lost his stick. He's just trying to hold me down," Crosby said of the altercation. "I don't know what he was trying to do with my ankle. I was in some kind of lock there. I don't know what it was."
Both players were given minor's on the play for holding.
"I really don't understand the call. I saw my guy get his head cross-checked into the ice 10 times," Predators head coach Peter Laviolette said of the referee's decision.
Crosby also threw his Gatorade bottle from the Penguins' bench in Game 5. He talked his way out of the penalty by telling a referee that he "didn't mean to throw that." After the game, Subban said that Crosby's actions were just a part of the nature of hockey and that he can't control how officials call a game.
Crosby's actions trigger a recurring question of why many White athletes get away with having the "bad boy" image. Former NFL linebacker Bill Romanowski is arguably the dirtiest player in NFL history. He once spat in a player's face during a game, and in 2003 he broke his teammate's eye socket during practice. Romanowski paid many fines throughout his career, but he was only suspended from Raiders' practice and not a single game after the eye socket incident. Detroit Lions defensive tackle Ndamukong Suh, who is Black, is also known as one of the dirtiest players in league history. However, Suh has been suspended for two games in his career, in addition to receiving a handful of fines.
In 2011, three Black players from the Cincinnati men's basketball team were suspended six games for participating in a brawl against Xavier. Center Cheikh Mbodj became known as college basketball's dirtiest player after that brawl because he was stomping another player during the altercation. In 2017, Duke star Grayson Allen has taken the title of the game's dirtiest player. Allen, who is White, received a one-game suspension after tripping multiple players on the floor during games throughout his Duke career.
Crosby, Romanowski, and Allen don't lack public criticism for their acts during gameplay, but their punishments don't line up with their Black counterparts.