A meditation based on: 2 teens shot by a woman at beach on Chicago's South Side (graphic photos)
As a second Black body is raised on a stretcher on the 31st Street Beach in Chicago, the pain and suffering of all those who've witnessed Black death continues.
Brutal mayhem and senseless assaults continue to plague the early summer in Chicago neighborhoods and now the beaches have even lost the tranquility and escape they once offered the community.
It was a spectacle of Black violence captured on video.
Two more young Black men have been shot. It's a violent pandemic and epidemic that is setting the pace of murder in Chicago for the summer.
Traffic was stopped. Police barricaded roads in an effort to understand and manage the situation.
Emergency aid workers and officers lifted the bodies to stretchers.
How could the beach become a dangerous place to be in Chicago? How can terror occur at a place of beauty?
You wonder who and how and why and then the numbing impact of the Black-on-Black brutality rituals that seem to infiltrate once comfortable neighborhoods like Hyde Park becomes commonplace.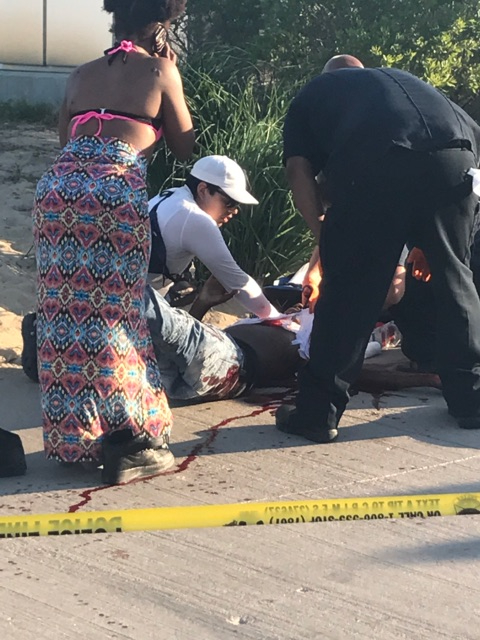 The yellow tape on the scene has become symbolic of the tragedy that has beset the Chicago community, time and time again. Even as Chicago men and women, boys and girls hope to avoid the constant gun violence, yellow tape appears like a curse for all to see. It's become the finishing line.
The lack of opportunities by and for African Americans and businesses to employ their own leaves success as a finishing line far in the distance and even impossible.
The unemployment rate for a young Black man is a game of fill in the blank. There are not jobs for him. But there are bullets. There's yellow tape.
There to witness it all, to see the yellow tape, are those families and tears, defrauded of a future with a loved one, of Black genius, of potential and other more grand finishing lines.