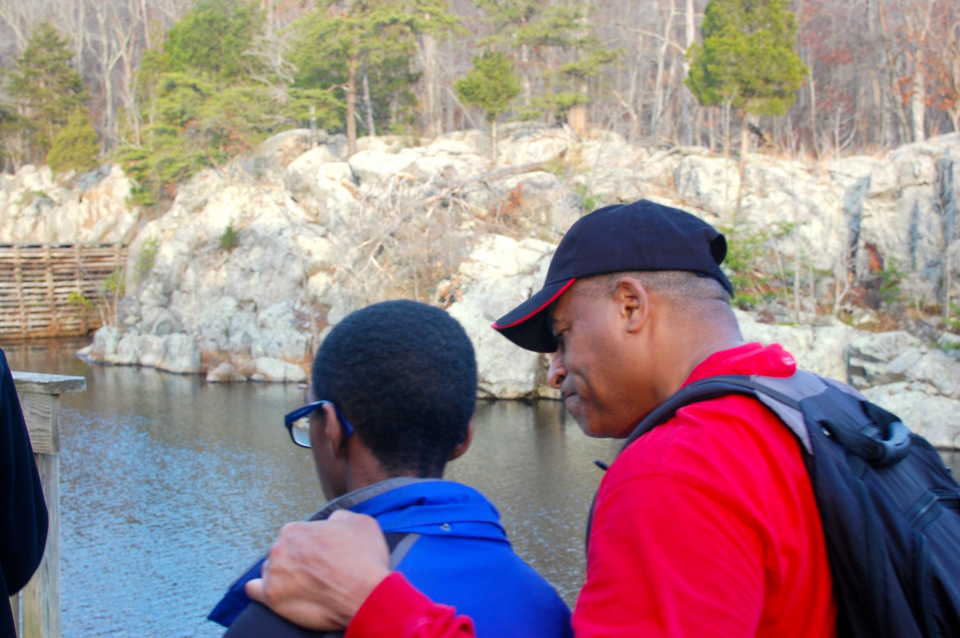 The "Concerned Black Men Inc. DC Chapter (CBM-DC) is a committed group of volunteers dedicated to improving the lives of DC area youth. Through workshops, trips, competitions, and scholarships, CBM-DC mentors embody the motto, 'Caring for our Youth,' " says Dedan Bruner, president CBM-DC. "This year we are excited to help a group of Hart [Middle Schoo] seventh grades boys and girls attend a trip to China. This is our first time participating in this program and we are excited to help in any way we can."
Read what he has to say about the organization and the trip.
What have you found to be the most rewarding component of your hard work with this organization?
Concerned Black Men, DC Chapter runs a group mentoring program for DC area boys ages 9 -15; the program is called Just Say Yes. Our mentors do an excellent job working with our youth but my favorite aspect of the program is the junior mentor component. Junior mentors are boys who have gone through and aged out of the mentoring program, but who have not yet graduated from high school. Our junior mentors are actively engaged in the planning, execution, and review phases of each of our workshops. Their input is vital and their connection with the younger boys is incredibly meaningful. Time served as junior mentors counts toward the community service requirements that many area high schools require. Seeing boys grow into the roles of leadership in service to their peers has been the most rewarding part of my work.
How have the youth you serve responded to the guidance and exposure?
Exposure is a key element in everything CBM-DC does. It is not uncommon for our kids to ski, camp, visit an embassy, or compete in an academic competition for the first time through one of our programs. We consider this as both an honor and a responsibility, and we work hard to make the experience rewarding. Seeing students who in years past may not have been comfortable speaking in front of a crowd go on to compete in an oratorical competition, or a boy who had never been out of the city overnight marvel at how many more stars can be seen from a campsite is a value that cannot be quantified.
Tell us about the program that's taking our youth to China in a few weeks.
For over 25 years, our International Awareness committee has cultivated a partnership with Hart Middle School in SE Washington, D.C. In years past, we met with groups of boys and girls from Hart to discuss international affairs, careers with the United States Department of State, visited embassies here in the District of Columbia and took students on a day trip to the United Nations in New York.
How would interested youth get involved with the DC Chapter of Concerned Black Men?
We have a variety of youth programs. Our International Awareness committee is a partnership with Hart Middle School students. For over 20 years we have hosted citywide oratorical and history bee competitions that are open to boys and girls. Our mentoring program is open to DC area boys ages 9-15. Interested parents are invited to attend an information session. For more information, please drop us a line in the contact section of our website (cbmdc.org).
What does it take to become a mentor or a member of this great organization?
New members are accepted on a rolling basis. All potential members must submit an application, pass a background investigation, and attend a new member information session. Persons interested in becoming members may inquire through our website (www.cbmdc.org) or directly to our membership chair, Charles Brinkley at [email protected]
How can people learn more about the organization and where can they make a donation to support your efforts?
We encourage those interested in learning more about us to visit our website at www.cbmdc.org. Those wishing to make a donation to CBM-DC may do so directly through our website by clicking the "donate" button. We are a nonprofit 501c and all contributions are tax deductible. If there is a specific project or program area that donors would like to support, they may indicate that designation in the donation portal.