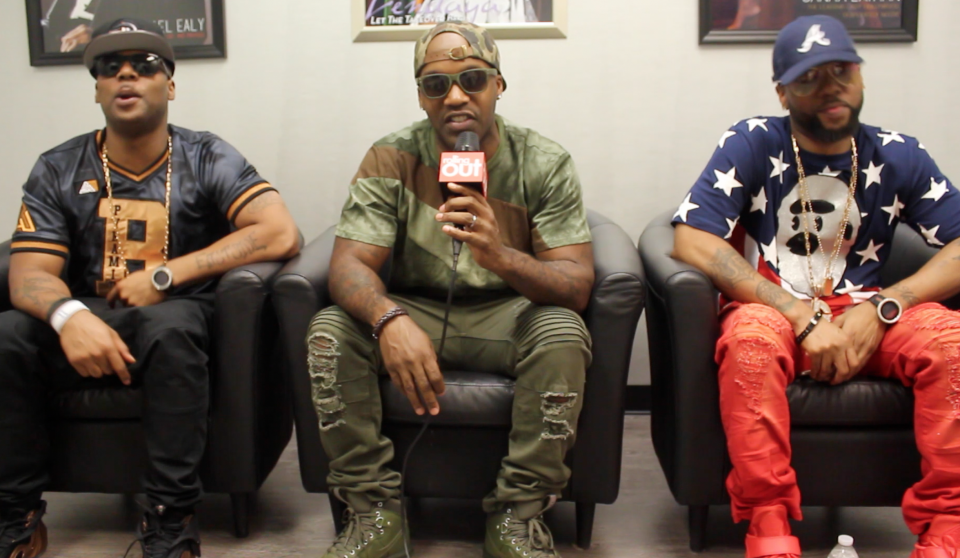 Jagged Edge's "Unsung" episode on TV One was very direct when it came to addressing issues with the attitudes of the group members. One of the things that stood out was when Brandon started dating Latavia from Destiny's Child and her group member LeToya Luckett was also dating one of the members from Jagged Edge. The 1-hour special touched on how the "bad boy" attitudes of Jagged Edge members started to rub off on the two Destiny's Child girls to the point that it was affecting Mathew Knowles' ability to manage them and have them under control. In a scene during the episode when this is discussed, there's a cut and the narrator says, "Shortly afterward, two new members were introduced [to Destiny's Child]." I always wondered how LaTavia and LeToya Luckett managed to get put out of the group.
Sitting in the rolling out office interviewing Jagged Edge (minus Kyle Norman) was a barrel of fun. I started the conversation telling JE they reminded me of a group with four Bobby Browns, perhaps each representing a different personality of Brown. They were the Bad Boys of R&B. Wingo expressed his thanks that there was no social media around at the time of their success. He and Brandon agreed not having Twitter, Instagram and Facebook during their era was probably how they were able to sweep a lot of their dirt under the rug.
I also discovered young Kandi Burruss was a boss even at the tender age of 17 when she discovered Jagged Edge. She started dating Brandon (he was, in fact, her first live-in boyfriend). Brandon shared that Kandi had to be flown back to Georgia for graduation from high school because she was actually on tour at the time. They all went to the same high school. After Kandi and her partner decided to manage the group JE, she took them to Jermaine Dupri and shortly afterward they had their first record deal after getting signed by Mike Bivins of New Edition. The guys and I laughed about the string of talent that existed around that time, and everyone was around the same age, as well. The next generation after these guys just didn't display the same level of talent on the R&B side. We agreed it was just a new generation with a different type of talent.
Jagged Edge is very proud to announce their ninth album recently released July 9. The last album they recorded was released in 2014 which is not really a long time for a group that's been around since the '80s. Wingo admitted they were at first reluctant to do TV One's "UnSung" because they are constantly in the studio and still performing different spot dates; they understood that the new version of "UnSung" doesn't mean you are no longer singing or making music. I'm glad they decided to move forward, as the TV One special reminded me of how many hit records Jagged Edge put out and why Atlanta was so popping on the music scene in 1998 when I first moved here.
Did you enjoy the "Unsung" episode? How many readers knew Kandi Burruss was responsible for bringing these talented young men to Jermaine Dupri?
Check out the rolling out interview and hear more from Jagged Edge, after the break.