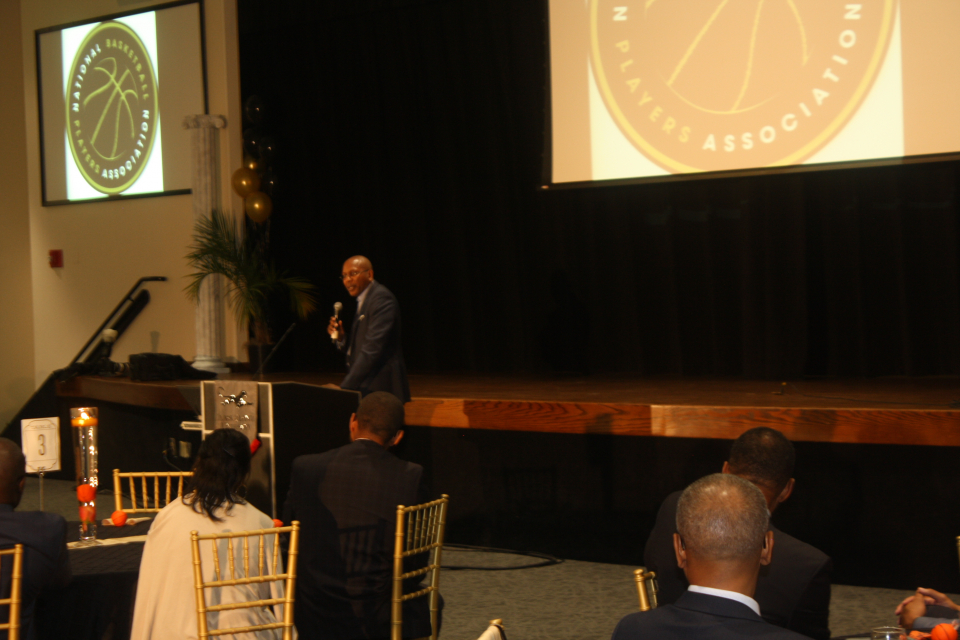 The National Basketball Players Association held its opening reception for the HBCU Top 50 Camp on July 19 at Clark Atlanta University. Among the night's speakers was SIAC commissioner Gregory Moore, Clark Atlanta University Men's Basketball head coach Darrell Walker, and NBPA executive director Michele Roberts.
"It's not every day that we can promote the mission of the players and find ourselves embracing something that the players also want to embrace, but every now and then we do have one of those opportunities and this is one of them," Roberts said at the event.
The Top 50 camp follows the model of the NBPA's Top 100 Camp, which is a week of training sessions for elite high school basketball players in the country.  The difference with the Top 50 is that the camp is focusing on the 25 best players from the SIAC and the SWAC conferences. However, players at the Top 50 Camp will receive the same attention prospects in the Top 100 Camp get.
"You are about to be coached by the best players on the planet," Roberts said to the participating prospects.
Among former NBA players at the opening reception was Jerry Stackhouse, Alex English, Theo Ratliff, and Tyrone Hill. During his presentation, Moore highlighted how NBA stars like Russell Westbrook and Draymond Green are giving back to their predominately White former colleges as opposed to HBCUs.
"I think it's important not just for this camp, I think it's important for a lot of former athletes, especially the NBA, to get more involved because I went to Xavier University in Cincinnati. I didn't realize this was really that deep," Hill said in regard to the state of HBCU athletics. "I wish I could've got more involved when I was playing in the NBA. So I'm looking forward to getting more involved with it."
Moore also said that Vanderbilt almost made twice as much as all HBCU conferences combined last year. He emphasized the importance of supporting HBCU athletics because, for a lot of former players, coaching jobs aren't easy to find after retirement and the best chances of landing one is at an HBCU, according to statistics. Coach Walker played in the NBA for 10 seasons himself. He said one particular moment in his tenure at CAU stands out the most.
" 'Good morning, coach. Just wanted to give you a special thanks for putting us all in a position to chase our degrees by getting us into summer school. We really appreciate that for real, coach,' " Walker said while reading a recent text message from his starting point guard. "That really meant a lot to me. Really more than anything I've accomplished here so far at Clark Atlanta University and this HBCU thing is a beautiful thing."
English is a Hall of Fame player who served as an assistant coach in the NBA for 10 seasons. He was named to the NBA's 50 Greatest Players Ever list in 1997 and contrary to his fellow former players, he has no issue with how fast-paced and offensively heavy the game has become nowadays, perhaps because he's currently the 18th highest scorer in NBA history. Although he said he'll love to get the opportunity to play in the BIG3 tournament and he realizes coaching's a more realistic option at age 63, he said that he hasn't put the possibility of coaching at an HBCU past him after the July 19 presentation.
"I'm very interested now. I see the possibilities and there's some skill there. There are a lot of guys that could possibly get a chance to play, whether it's in the NBA or overseas or wherever," English said.
Another spectator in the crowd was the former professional football player, current actor, and husband of actress Terri J. Vaughn, Karon Riley. Riley said the Black community realizing its power is vital.
"Segregation, I believe, actually hurt our people. You take an all-Black league, I guarantee you the NBA would be out of business within five years," Riley said.
The camp begins today and ends on July 23 at CAU and Morehouse College.