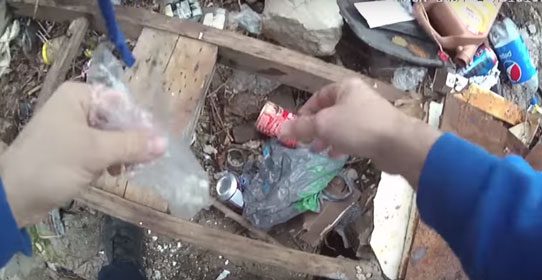 Since the death of Freddie Gray, police in the city of Baltimore have been under the microscope for a series of alleged injustices. Now, once again, there is evidence that Baltimore has a serious problem with dirty cops.
The Baltimore public defender's office released body cam footage from an arrest that occurred in January by Officer Richard Pinheiro. In the video, Pinheiro is seen talking to fellow officers before he goes down to a pile of trash in an alleyway. Pinheiro is seen on his body cam allegedly planting a bag of heroin in a soup can and then covering it with a piece of wood. According to the Baltimore Sun, apparently, the officer did not realize that his police camera had a feature that saves the 30 seconds of video before activation, but without audio.
The public defender's office discovered video and alerted the Baltimore prosecutor's office, which dropped charges against the man arrested by Pinheiro. As a result of the video revelation, Pinheiro has been suspended while the investigation by the Baltimore City State's Attorney's Office is conducted. In addition, the two officers with him, identified as Hovhannes Simonyan and Jamal Brunson, have been placed on non-public-contact administrative duty.
Baltimore Police Commissioner Ken Davis told the Baltimore Sun, "To let that initial video that was released by the public defender's office stand all by its lonesome, I think, doesn't paint as clear of a picture as we would like to offer to the community right now."
In addition, Davis stated that the department is investigating whether the officers were simply "re-creating" the discovery of the drugs at the crime scene. Other cases in which Pinheiro has been involved are now under greater scrutiny since the discovery of the video.
The video released by the public defender's office can be seen below: