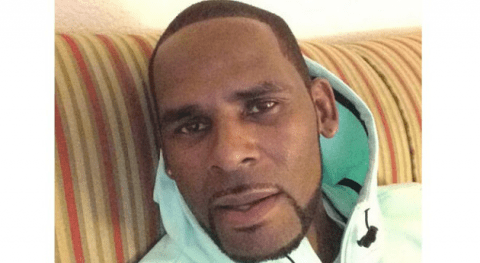 Since news broke of R. Kelly's alleged sex "cult," the details surrounding the R&B crooner's private, romantic rendezvous have become more and more bizarre by the minute.
As previously reported by Buzzfeed, the parents of multiple young women involved with Kells, recently accused the singer of holding their daughters against their will, at his mansions in Gwinnett County, Georgia, as well as in Illinois. While each of the women is above the age of consent, Kelly faces some pretty heavy claims including: prohibiting the young women from speaking to their families, enforcing a strict dress code and requiring that they ask permission to eat, leave the premises, use the phone, as well as agree to sexual encounters that are often recorded.
"All these girls just dote on him," a woman, referred to as "Kim," recently told Jezebel of her involvement with Kells alleged cult. "It's so f—ed up. They're completely manipulated and brainwashed."
Kim, who became involved with Kelly roughly one year ago, after being invited onstage during one of his concerts and then to an after-party, referred to the "12 Play" singer as "very controlling."
"When we're out we're not allowed to look at anyone," she said. "We have to keep our heads down. If we're back in his studio sitting on the couches and he has friends across the room at the bar, we can't look at each other or communicate with each other." The girls are also instructed to "tell on each other," she continued. "If we're in an Uber and we chat up the driver, we're supposed to tell him this girl did this or that. He's very controlling and manipulative. He likes to be in control."
While one of Kelly's girlfriends has since denied the claims, saying she's chosen not to speak to her family and insisted that she's even "happy," another woman has come forward with eye-raising details of her recent encounter with Kelly.
According to TMZ, the young woman (who has not been named) met the singer backstage during one of his shows in December. She was 20 at the time. The woman claims that someone in Kelly's crew gave her a wristband, which led to an introduction and an exchange of information. They exchanged calls and texts, before the Pied Piper invited her to his Georgia home, instructing her to "wear something sexy." She claims she brought a friend, but that things got real weird, fast. No phones were allowed and she was soon escorted to Kelly's bedroom. There, she was asked to strut around and pose — with the promise to help kick off her career as an actress-model. He also convinced her to take sexy photos. For the encounter, he paid her $200.
Upon her departure, the woman alleges she was invited to return and was given instructions to buy black lingerie, heels and red lipstick for her next visit — with the money he'd given her. The woman went on to claim that she returned two more times, but that each time, Kelly became more and more aggressive, controlling and even manipulated her into taking nude photos. She says the last straw came in February when he sent her a one-way ticket to join him in L.A. and warned her not to bring a friend.
Thanks to the advice of her mother, the young woman claims she was the one that got away.
Kelly has not yet commented on the new allegations.