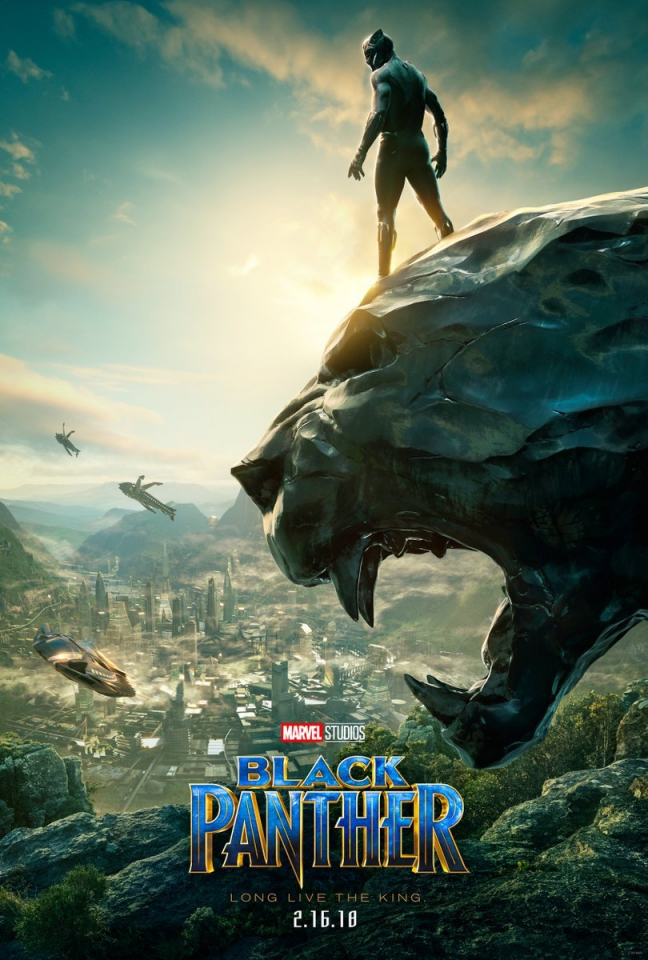 Black Panther has an epic new poster.
On Saturday, fans at Comic-Con in San Diego, California, had the opportunity to attend a 90-minute Hall H panel, where Marvel Studios unveiled a new poster (pictured above) along with a first look at the highly anticipated film.
The moderator, Chris Hardwick, informed the audience that the stars had just seen the footage for the first time themselves, Variety reports. Director Ryan Coogler introduced the teaser, which was for the Comic-Con crowd's eyes only, following a quick Q-and-A with cast members, including Chadwick Boseman, Lupita Nyong'o, Danai Gurira, Daniel Kaluuya, Forest Whitaker and Andy Serkis.
The scene description comes from the ComingSoon.net live blog from the Marvel Studios panel:
"It begins with T'Challa walking through a metal detector and into a casino/nightclub. With him is Nakia. Serkis also arrives. He's meeting with Martin Freeman's Everett Ross. Klaue has his new, robotic arm. He's exchanging a small portion of vibranium for for diamonds. Also with T'Challa is Okoye. She and Nakia are watching Klaw and Ross intently. 'It's now or never,' says Okoye, extending a staff. A massive fight breaks out on two levels of the nightclub. Klaue tries to shoot T'Challa, but his gun is empty. 'You know?' says Klaue, 'You look just like your old man.' T'Challa is mourning his father's death and trying to figure out how to be King when circumstances occur that force him to deal with a threat immediately. He converts his arm into a weapon, but T'Challa is too fast, blocking the blast with a nearby table. The footage changes into more of a trailer. There's a cool shot of the Black Panther costume forming around T'challa with some kind of advanced tech. There's a big car chase on a busy street with neon signs all around. At one point, Black Panther runs straight up a wall. The action looks insane. There's Kendrick Lamar's 'Loyalty' playing over a bunch of it. We see the Black Panther costume form over T'Challa again, but it's a slightly different design with a bit of gold in it."
Of his latest project, Coogler said: "I grew up as a young Black kid in the Bay Area. As I got older I wanted to find a comic book character who looked like I did." The first character he related to was Black Panther. "To be here … is amazing," Coogler said, adding that he wants the movie to show "someone who got his power from the people around him and his history."
Black Panther kicks off following the events of Marvel's Captain America: Civil War, where King T'Challa (played by Chadwick Boseman) returns home to the African nation of Wakanda. Soon after returning to take the throne, T'Challa is challenged by factions within his own country. When two foes — Erik Killmonger (Michael B. Jordan) and Ulysses Klaue (Andy Serkis) — conspire to destroy Wakanda, the Black Panther emerges to team up with CIA agent Everett K. Ross, members of the Dora Milaje, and Wakanadan special forces, to prevent a world war.