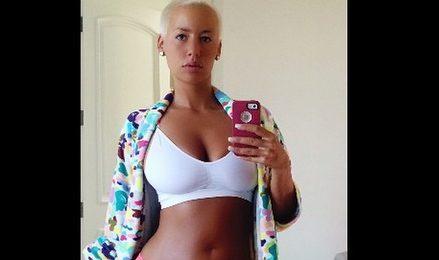 Amber Rose is ducking these days after saying that Black women from South Philly are not "traditionally attractive," a statement that incited Torrei Hart to peel back Rose's thin wig for being a bad example.
The controversy popped off when Rose's interview on "Drink Champs," went like this:  "You know what's crazy? I grew up in a very poor neighborhood, and I don't know how I can say this without sounding f—ed up, but a lot of the people where I'm from aren't traditionally attractive people," she said.
"And for me, being blessed with beauty, as beautiful women know, is a blessing and a curse," she continued. "And to grow up in such an area, to be blessed with beauty, it was very difficult for me, and a lot of people used to be like 'you ain't from South Philly; you're from California or somewhere.' And I'd be on the bus and people would be like, 'Where you from?' "
This ignorant statement was so foul that Torrei Hart, the ex-wife of Kevin Hart, fired shots at Rose, with this verbal arsenal:
"Is Amber Rose speaking about pre-surgery or post-surgery? That's the question," Hart said. "Because if she's talking about post-surgery, of course she's not going to look like anybody that's in the South Philly area or North Philly, West Philly, any part of Philly because she's got enhancements. So she's not gonna look like, you know, the everyday girl."
"I think Amber, she got it a little twisted, too," Hart continued. "She's like these men gassed her up a little bit. She forgot that men are gonna tell you whatever they need to tell you to get into the drawers, okay?"
Hart continued, "[There are] plenty of naturally beautiful people in Philadelphia. "And I think the platform that she's on, she has to be more responsible with the word choices because there's a lot of young girls that's [sic] out there that looks up to her. You know, they're taking her words, they're taking everything that she says, and they're holding on to those words. So for her to say something like that, there [are] young girls with self-esteem issues. … You know, I'm gonna take it there, people commit suicide every day because of self-esteem issues."
The reality star then addressed Rose directly, adding: "You can't keep saying the same things you was [sic] saying back at 20 when you were stripping in a strip club. Because let's face it: Kanye came and saved you, and now, he's on to the next, so that's it."
https://www.youtube.com/watch?v=Ej-qYPrxHzM
Rose has since tried to Moonwalk back from her statements with a weak mea culpa.
"I know that people really want me to be a superficial b—-, but I'm just not that person. I find beauty in everyone," she said.
She then added, "Unfortunately, it's not easy doing interviews and, you know, always saying things the way you really want to articulate."